WASHINGTON (Sputnik) — On Friday, the United Kingdom announced that nearly 52 percent of British voters chose in a referendum to leave the European Union, a move known as Brexit.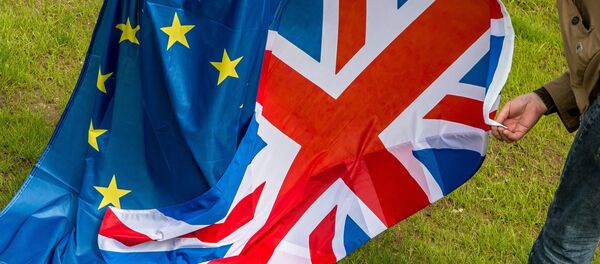 "The world at the moment… is discarding civilization and compassion to vent its three-year-old's tantrums," Shields said about the result of the Brexit referendum on Friday. "Shakespeare saw it all: the power of the vile."
Shields said the vote was certain to lead to political upheaval in Britain with anti-European extremist wing of the Conservative or Tory Party seizing control of the ruling political movement in the short term.
"As for the United Kingdom [former London Mayor] Boris Johnson and the crazy right of the Tory Party [will be] in power."
Shields also predicted that the Brexit vote would lead to Scotland's secession from the United Kingdom as a majority of Scottish voters, including the dominant Scottish National Party (SNP), had supported staying in the EU. He said such a move would transform Britain's constitution.
"Scotland [is] set to leave [the United Kingdom] for good. That means there will probably be a new role for London."
The United Kingdom might try to leave old tax treaties and become an offshore financial haven for European economies or a springboard to attract investment from China, Shields suggested.
The Brexit vote also threw the future and leadership of the opposition Labour Party into confusion as its leader Jeremy Corbyn had campaigned to remain in the EU, Shields pointed out.
"No one knows what this means for Corbyn and Labour."
British Prime Minister David Cameron and former Labor Party leader Ed Milliband had been responsible for the decision to hold the referendum and therefore they were also responsible for its outcome and the financial and political chaos that were likely to result, Shields added.
"No tears for Cameron – or Milliband, the man who allowed him to pursue the vote."
Cameron has resigned and is now heading a caretaker government until new elections can be held in the fall.