Yevgeniya Patanovskaya, a former press secretary at the Primorsky Safari Park, said that the tiger was already well-fed when the goat was brought to him and therefore had no desire to kill Timur, according to the Russian news website Gazeta.ru.
"Amur the Tiger didn't eat Timur the Goat because he wasn't hungry. So I asked the park employees to keep Amur well-fed so that he doesn't eat Timur. That's how he managed to endure for two months," Patanovskaya said.
She also explained that a tiger living in captivity doesn't create food stores, which is why Amur felt no need to kill Timur for as long as the former wasn't hungry.
Meanwhile, Oleg Mezentsev, head of the Primorsky Safari Park, dismissed claims made by his former employee as false.
"They lived together for two months, how could you fake something like this? If he (Amur) wanted to eat him (Timur), he would've done so, but he didn't. And he ate other goats and boars twice Timur's size," Mezentsev said.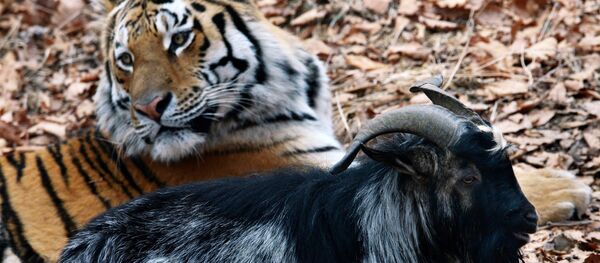 29 January 2016, 10:10 GMT
He also added that while Patanovskaya was indeed his employee, she was not a press secretary for the park and was on bad terms with the rest of her colleagues.
Amur and Timur became friends on November 26, when the goat was thrown into the tiger's cage as his would-be meal. What ended up happening, however, surprised the whole world: when Amur tried to attack Timur, the goat charged back, fending off the predator. This seemed to take the tiger by surprise and he  quickly lost his predatory interest and stopped seeing the goat as a prey. Soon after that the two became inseparable friends.