MOSCOW (Sputnik) — On Thursday, the United Kingdom held a referendum on its membership of the European Union. In Scotland, 1.6 million voted in favor of remaining part of the European Union, while about one million voted in favor of leaving.
The survey which was conducted a few hours after the official announcement of the Brexit results reveals that 59 percent of Scots would support the idea of the ​​independence from the UK.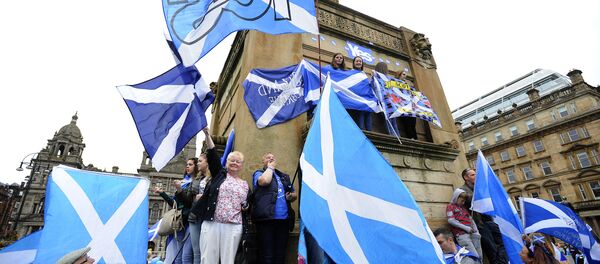 ​In a referendum held in September 2014 Scottish voters backed remaining within the UK by a margin of 55 percent to 45 percent.
The new survey results show that pro-independence sentiments are gaining popularity among the elderly population, with 47 percent of senior citizens saying they would now vote for an independent Scotland.
On June 15, the Ipsos MORI poll for STV news held in Scotland indicated that 47 percent of respondents agree that there should be a new vote on Scottish independence within two years if the United Kingdom decides to leave the European Union, whereas 45 percent believe otherwise.
On Saturday, Scotland First Minister Nicola Sturgeon announced that the Scottish cabinet has agreed to begin work on legislation to enable another independence referendum.