The Turkish leader made this announcement during an evening event hosted by the Industry and Business Association, according to Yeni Safak newspaper.
"[Trump] has no tolerance for Muslims living in the US. And on top of that they used a brand in [Istanbul] with his name. The ones who put that brand on their building should immediately remove it," Erdogan said, the Turkish Sun reports.
Trump Towers Istanbul was opened in 2012 by Turkish tycoon Aydın Doğan who paid Trump in order to use the brand name.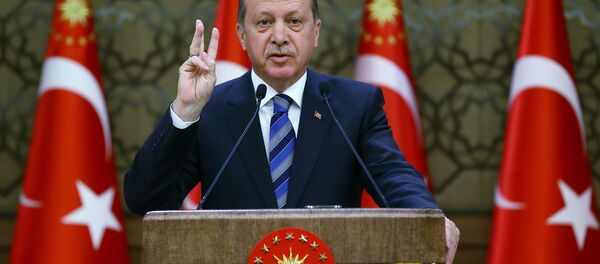 It should be noted that the then-Prime Minister Erdogan was one of the dignitaries attending the towers' opening ceremony, though he openly admitted the fact and said that he regrets that decision.
During his speech, the Turkish president also accused the European Union of Islamophobia and claimed that this is the reason why Turkey is being stalled in its attempts to become a member of the organization. He did, however, praise the efforts of US President Barack Obama who "is on the side of Muslims", Yeni Safak adds.