MOSCOW (Sputnik) — Ukraine's bid to enter the European Union is currently off EU's agenda, German Chancellor Angela Merkel said Monday at a press briefing in Berlin.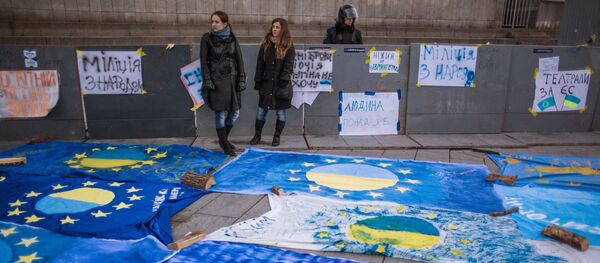 Brussels signed an association deal with Ukraine in 2014 to bring it closer to the bloc. Ukraine regards it as the first step toward eventual accession to the European Union, which Kiev hopes to finalize by 2020.
"I do not want to raise any false hopes. We are still at the stage of implementing EU's association deal with Ukraine, and the possibility of [Ukraine's] entry to the EU is at the moment not on the agenda," Merkel told reporters in Berlin.
Speaking at a joint press conference with Ukraine's Prime Minister Volodymyr Groysman, Merkel vowed to support the Ukrainian government in its efforts to meet criteria for EU membership.