MOSCOW (Sputnik) — Russian President Vladimir Putin and his Turkish counterpart Recep Tayyip Erdogan will hold a phone talk on Wednesday, initiated by Moscow, Kremlin spokesman Dmitry Peskov said Tuesday.
"Of course, we will need to take more than one step in each other's direction, one shouldn't think that everything can be normalized in a few days, but work on this will continue. In particular, tomorrow, a phone call between President Putin and President Erdogan will be held at Russia's initiative," Peskov told reporters.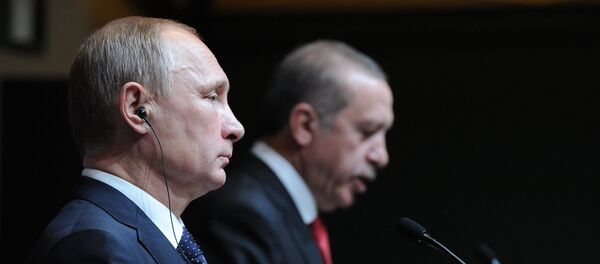 Turkish-Russian relations deteriorated after a Turkish F-16 fighter shot down the Russian Su-24 combat jet near the Turkish border in Syria on November 24, 2015. The jet was carrying out anti-terrorist operations in Syria. The crew of the plane ejected and one of the pilots, Oleg Peshkov, was killed by ground fire, while the second pilot survived.
Following the incident, Moscow imposed a number of restrictive measures on Turkey and has repeatedly said that Ankara should apologize for downing the plane and cover any material losses to the country and the pilot's family.