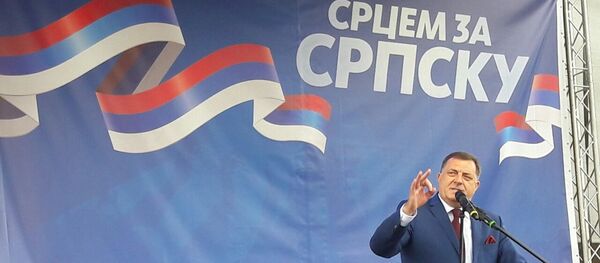 MOSCOW (Sputnik) — The Republika Srpska, an ethnically Serbian entity in Bosnia and Herzegovina (BiH), will have to organize a referendum on potential membership of the North Atlantic Treaty Organization (NATO), President Milorad Dodik said Tuesday.
"The people in Republika Srpska will definitely be deciding on the membership of NATO, and will do so in referendum," Dodik said, according to the Nezavisne Novine.
Dodik added that Serbian people still had not "healed the wounds" from NATO bombing of Serbia in 1999 and could not forget that NATO aligned itself against Serbs in BiH and Kosovo.
According to Dodik, NATO has further polarized its function in a way that could create potential problems to Republika Srpska and its citizens.
"NATO which enters into conflict, first and foremost, with Russia, leads us to a position of having to align with one or the other side, and I think we must not align in any way, especially not against Russia in a potential, hypothetical conflict," Dodik said.
The Republika Srpska is an administrative entity in BiH, which was established in 1995 following a three-year civil war. The conflict escalated between the Serbians, the autonomous Bosnian Muslims and the Croats. As local authorities and law enforcement were weak at the moment of the conflict, the intentional armed forces were engaged, and NATO conducted operations against the Bosnian Serbians.
The accession of BiH to NATO is in the negotiations stage as of 2010. The country joined the Partnership for Peace in 2006, and signed an agreement on security cooperation in March 2007. As of 2008, BiH began further cooperation with NATO within its Individual Partnership Action Plan.