LONDON (Sputnik) — On June 23, the United Kingdom held a referendum to determine whether or not the country should leave the European Union, with over 50 percent of the UK public voting in support of Brexit. In response to the referendum outcome, UK Prime Minister David Cameron announced he would resign in October to allow his successor to negotiate the Brexit arrangements.
"One thing is clear: there cannot be three months of drift while both the government and main opposition parties at Westminster immerse themselves in internal elections. That would compound the difficult situation we are already facing and risk even more damage to our economy," Sturgeon said in an address to the Scottish Parliament.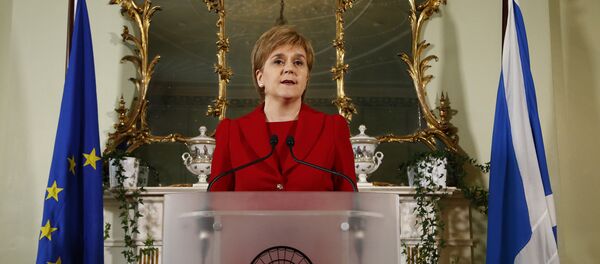 She added that "the vacuum that has developed at Westminster is so unacceptable."
"We have heard that – almost incredibly – there was no plan for this outcome [Brexit]. It is my view that the UK government must now get a grip on this: first, to restore stability and confidence, then, to set out its plan for the way forward. It must involve the Scottish government in that work at every step of the way," Sturgeon noted.
Although a majority of voters in Wales and England voted in favor of leaving the bloc in Thursday's referendum, London, Scotland and Northern Ireland voted in favor of remaining part of the European Union.