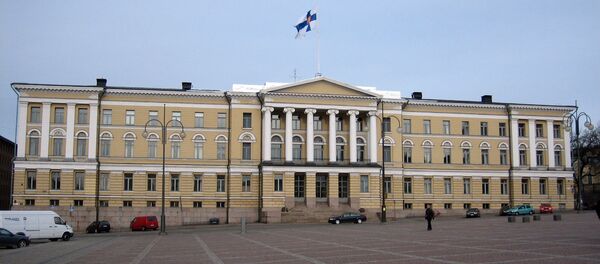 Nihon Ryugaku Center's director, Yelena Ivanova, registered her  business in Japan in 2006 thanks to a local program, which allows the creation of companies with a charter capital of just one yen (0.00974 US dollars.)
This unique program, aimed at promoting small and medium-size businesses, was introduced by the Japanese government in 2003. Nihon Ryugaku Center now employs five Russian staff and handles 300 foreign students.
In an interview with Radio Sputnik Yelena Ivanova said that starting one's business in Japan is easy.
"I just paid 2,000 yen ($19.4) for a catalogue of Japanese language schools which I went to asking if they would accept students from Russia. Starting this business wasn't easy but it was fun," Yelena said in Japanese.
Yelena Ivanova, who came to Japan in 1993 to study the language, had always dreamed about having as many Russian students coming to study here as possible.  "I'm Russian and I know things about inviting students from Russia the Japanese know nothing about.
Thanks to her knowledge of psychology and Russian student's motivation the company has established itself in the Russian educational services market.
"There were some initial jitters about Russian students coming in. Some feared that, like their Chinese peers, they would start looking for a job and overstay their welcome. But after I invited their school representatives to come over and attend Japanese-language classes in Russia, they realized that Russian students were dead serious about their studies."
In 2002, after a series of seminars in Vladivostok, Irkutsk and Khabarovsk, the Nihon Ryugaku Center had the first ten Russian students coming to study in Japan. 
In 2013 there were already 300 of them studying in Japan. However, their number has gone down quite notably the past there years due to the economic crisis in Russia.
"Only people with serious intentions come in these days, most of them as part of long-term programs. The number of those coming to study during their summer vacations is now down," Yelena said.
Gaku.ru, Nihon Ryugaku Center's Russian language website, offers information  about 20 of 300 Japanese-language schools in the Country of the Rising Sun. Unfazed by the high tuition costs, Russians mostly go for prestigious language schools in Tokyo.
Just like their peers from China, South Korea, Vietnam, the US and France, Russian students spend their spare time working at local cafes, hotels before entering universities. Most of them return home. Some of them find jobs with Japanese companies doing business in Russia.