MOSCOW (Sputnik) — It is unacceptable to accuse Russia of dragging out the Ukrainian crisis, Putin said.
"We find unacceptable the protraction of Ukrainian crisis, as well as accusing anyone of it, but first of all Russia. It will result in worsening of the already unhealthy situation in the European continent. It will aggravate the consequences of the big mistake, which has been made in its time, I mean the choice in favor of NATO expansion to the east instead of construction of an architecture of equal and indivisible security from the Atlantic to the Pacific Ocean with Russia's participation."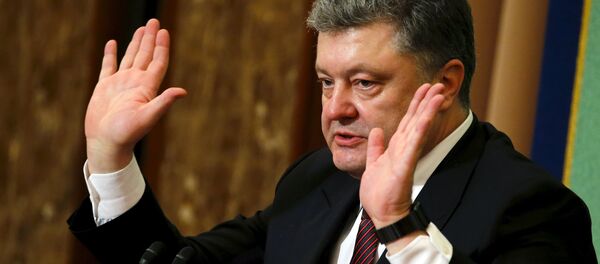 "We sincerely wish for the settlement of the Ukraine crisis to be reached as soon as possible, we will continue to cooperate with members of the Normandy format and with the United States. We want to see a good neighbor in Ukraine, a predictable, civilized partner in peace with itself, first and foremost," Putin told Russian diplomats.
In February 2015, a peace agreement was signed between Ukraine's conflicting sides in the Belarusian capital of Minsk, after talks of the Normandy Four countries, comprising Russia, Germany, Ukraine and France.
The deal stipulates a full ceasefire, weapons withdrawal from the line of contact in eastern Ukraine, an all-for-all prisoner exchange and constitutional reforms, which would give a special status to the self-proclaimed Donetsk and Lugansk people's republics.