Bangladeshi security forces stormed Dhaka restaurant where hostages were being held, Reuters reported, citing the police.
Bangladeshi police said that more than 100 commandos were involved in the operation. Eighteen hostages have been rescued from the restaurant, Dhaka Tribune reported, citing the police. At least 5 people were killed during the storm, all attackers were eliminated by the Police, according to NBC News.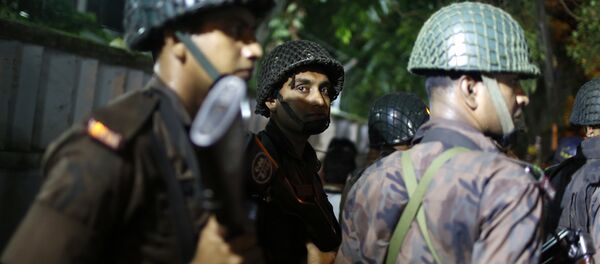 On Friday, Daesh terrorist group outlawed in Russia reportedly claimed responsibility for hostage taking inside the cafe located in Dhaka's diplomatic quarter, which also reportedly left up to 40 people injured and two police officers dead.
Earlier it has been reported that Japaneze or Italian citizens were likely among the hostages.
According to the Japanese foreign minister, a group of experts representing the center on countering international terrorism established in December at the country's foreign ministry has already headed for Bangladesh.