On Monday China Daily reported that China will not engage in negotiations with the Philippines about their disputes in the South China Sea on the basis of an upcoming ruling from the Permanent Court of Arbitration in The Hague.
​A highly contested region through which nearly $5 trillion international trade passes annually, the South China Sea is claimed by China, though there are overlapping claims by the Philippines, Vietnam, Indonesia, Taiwan, and Brunei.
Manila filed its case against China with the international court in January 2013, but the following month China rejected and returned the Philippines' notification about the court proceedings.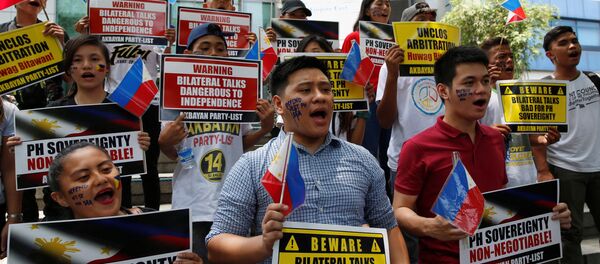 The Hague court is due to announce its ruling on July 12, but China insists that it has no jurisdiction in the matter, and will ignore the ruling. Beijing has urged the Philippines to
engage in bilateral talks
to solve the dispute instead.
"Manila must put aside the result of the arbitration in a substantive approach," sources close to the issue between the two countries told China Daily.
Dr. John Short, political analyst and Professor of Public Policy at the University of Maryland, told Radio Sputnik that the Philippines may be able to better serve its territorial interests in the South China Sea by negotiating with China.
"There's nothing much to be gained if they accept the arbitration ruling and China ignores it, there's nowhere to go after that," Short said.
"If they take part in bilateral negotiations with China they can advance their claim, and maybe get a much better territorial outcome."
Short said that China is annoyed by the arbitration case because although it will ignore the ruling, Beijing "doesn't want to be seen as an outlaw in terms of the international political system."
"They want to offset the negative outcome for its reputation in the world order," and so Manila feels it can get some political leverage from taking the case to The Hague, the analyst said.
"If it (the verdict) goes against them, they're hoping that the Philippines will disclaim it and then be involved in bilateral negotiations. To be frank, I think most people would like to see that, there's nothing to be gained by an immediate scandal, it's in no-one's long-term benefit."
The Philippines is a strong ally of the US, but other countries involved in the dispute, such as Vietnam, are not, so Short thinks that claims the South China Sea issue is no more than a proxy conflict instigated by Washington are wide of the mark.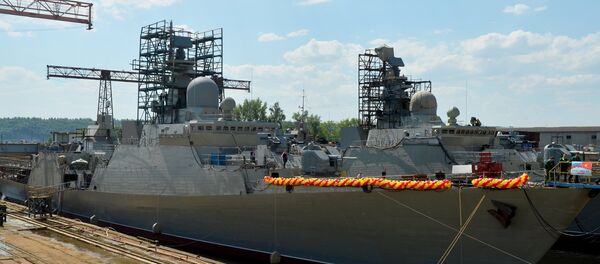 "Close to a million people in Vietnam rely on the fishing industry in the South China Sea, many of the countries have important claims on oil and gas reserves in the area, and it's an incredibly important crossroads for maritime, oceanic trade from the Middle East and Europe towards East Asia."
"This is a geopolitical hotspot that will never cool down, it appears."