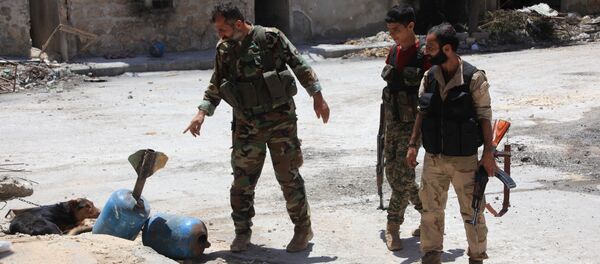 BEIRUT (Sputnik)
–
An attack by extremists in Syria's Aleppo city was repelled by the Syrian army with the support of armed militia, a source in the militia told RIA Novosti on Tuesday.
"In Layramoun (a district in the northwest of Aleppo) the Syrian army managed to blow up a vehicle laden with explosives and a suicide bomber on time that was headed for the army's position… In Maysaloun, extremist snipers have been firing at our positions and the positions of the army for several hours. Militia has suffered casualties," the source said.
The source added that after repelling the attack overnight, the army and militia launched an assault against the extremists, capturing a tank and combat vehicles.
As the Syrian army and militia liberated the northern suburbs of the city and cut off supplies to terrorists from Turkey, clashes resumed in the central districts.
Over 40 percent of the city is estimated to be controlled by terror groups, including Jaish al-Islam, Ahrar ash-Sham and the Nusra Front, outlawed in many countries around the world, including in Russia.
Syria has been mired in civil war since 2011, with numerous opposition factions and Islamic extremist groups fighting government forces in an effort to topple the government of President Bashar Assad.