MOSCOW (Sputnik) — Dutch investigators do not provide the Russian side with the investigation information on the Malaysian Airlines flight MH17 crash in Ukraine, Russian Investigative Committee spokesman Vladimir Markin said Wednesday.
Earlier in the day, Russian Prosecutor General's Office received a group of Dutch prosecutors, who arrived in Moscow to discuss the probe into the MH17 crash.
"However, I should state that transfer of the information related to the plane crash is conducted by the Investigative Committee unilaterally. The Dutch side does not share the data it possesses, with its Russian colleagues, despite the fact that bilateral information exchange would multilaterally speed up the investigation," Markin said.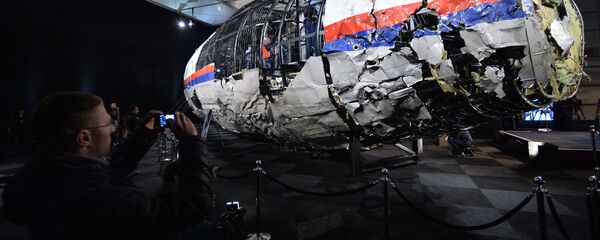 He added that the Dutch side refused to share important data, obtained from Ukraine, such as primary radar data and pilots' conversations.
"In addition, attention is drawn to the disregard by the official investigation of numerous requests of the need to provide this important data, obtained from the Ukrainian side, to the Joint Investigation Team, such as primary radar data, conversations between military air traffic controllers, as well as recorded military sector conversations," Markin added.
Flight MH17, with 298 people on board, crashed on July 17, 2014, in eastern Ukraine after being shot down en route to Kuala Lumpur from Amsterdam, leaving no survivors. Most of the victims were Dutch citizens, and the Dutch Safety Board is heading the international investigation into the incident. The local militias and the Kiev-led forces were fighting in the region at the time of the crash, and trade blame for the incident.