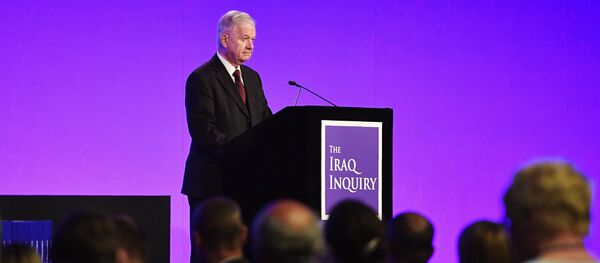 MOSCOW (Sputnik) — The most important thing is to learn lessons for the future from the recently revealed
Chilcot Report
on the Iraq War, UK Prime Minister David Cameron said during his Question Time in the Parliament on Wednesday.
"The most important thing we can do is to really learn the lessons for the future and the lessons he laid out quiet clearly," David Cameron said.
 UK Prime Minister said that the country should rely on its intelligence agencies despite Sir John Chilcot's report claiming that UK policy regarding the 2003 invasion of Iraq had been based on flawed intelligence.
"Brilliant and hard-woking intelligence agencies…have been helping to keep us safe every day of the year. Since November 2014, they have been able to foil seven different planned terrorist attacks on the streets of the United Kingdom. What this report shows is [that] there needs to be a proper separation between the process of assessing intelligence and the policy-making that flows from it," Cameron said.
He said that the UK armed forces "remained the envy of the world," and the intervention was not always wrong.
"Britain must not and will not shrink from its role on the world stage, or fail to protect its people," he said.
The United Kingdom was part of a US-led coalition that invaded Iraq in 2003, without a UN mandate, after accusing Saddam Hussein of possessing weapons of mass destruction, which, however, were never found.