MOSCOW (Sputnik) — In the first years of his tenure, Yeltsin announced political and economic reforms, and his charisma and popularity among Russians facilitated launch of their implementation. But the second half of Yeltsin's presidency saw the reforms fail under the weight of numerous mistakes, Russian politicians told Sputnik.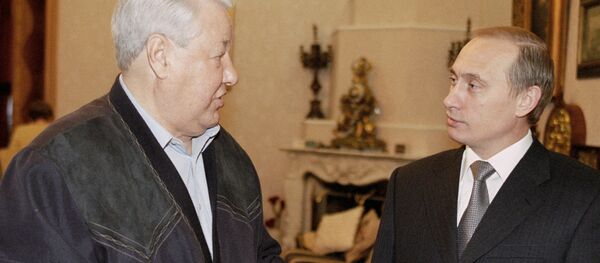 29 September 2015, 13:12 GMT
Officials who used to work under Russia's first president said he was not an ideal politician – but rather the one who could admit his mistakes, take risk and win over interesting and independent minds.
Disputes about Yeltsin's controversial heritage go on 17 years after he stood down, with many calling his policies misleading.
But the majority of Russian political decision-makers – both old and new – give him credit for passing the first Russian Constitution to enshrine the supremacy of human rights, turning the country into a market economy and his drive for reforms, although some say his decision to step down was the best part.
Yeltsin was elected president of Russia on June 12, 1991 and took the oath of office almost a month later. Alexander Rutskoi, his running mate, was appointed as vice-president. Yeltsin returned for the second term in 1996 and announced his surprise resignation on December 31, 1999.
Experts and politicians lauded his decision as a courageous and unprecedented move, while others said it came too late as his departure left the nation in a shaky state.
Rightful Course
Mikhail Kasyanov, co-chair of Russia's liberal democratic Parnas party and a finance minister during the first Russian president's second term, gives Yeltsin an "A grade" for his presidency.
"Despite some serious mistakes in his decision-making – the Chechen War, privatization through auctions for vouchers – he chose and stayed true to a general course of democratic development, even though not everyone agreed with how it was being implemented," Kasyanov said.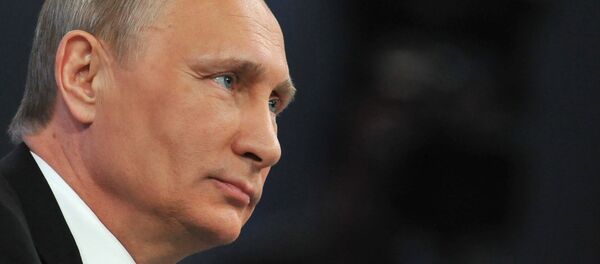 Center-left Yabloko Party leader Grigory Yavlinsky, who headed his faction in the first three convocations of Duma, the lower house of the Russian parliament, said that, "during Yeltsin's first term the country was moving in the right direction but the government made a critical number of mistakes and miscalculations."
Russia's former Vice President Rutskoi agreed to be his running mate after declining two offers because Yeltsin could not clearly explain what his job as Number Two would be. "I was tempted by his [economic reform] program. It is still relevant. But they wrote one thing and did another," he confessed.
Reforms and Constitution
Irina Hakamada, a career politician and serving member of the president's Council on Human Right, said the first period of Yeltsin's presidency was that of "reformism and a drive to overhaul the political system."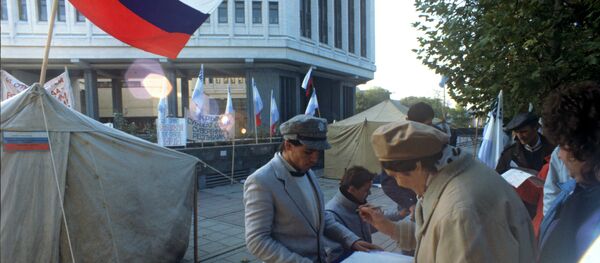 13 August 2015, 14:41 GMT
To do that, Yeltsin rolled out a series of reforms and initiated the drafting of a new Constitution, with one of the main chapters enshrining for the first time the supremacy of human rights.
"It was a European-style Constitution – more in spirit that in wording – which upheld the idea that a human and human life should be at the core of law-making. In my opinion, it is the main achievement. Moreover, Yeltsin did this democratically by calling a constitutional council," Hakamada said.
Kasyanov agreed that the adoption of a democratic Constitution, which is still relevant today, was the biggest accomplishment of Yeltsin and his team.
"Despite the nation's varying attitudes to [Yeltsin] and his roller-coaster approval rating – which swayed from 4 percent to 60 percent – I am still with that portion of the population who believe the country was on the right course," he said.
Political Farsightedness
Andrei Nechayev, who served as economy minister under Yeltsin in 1991-1993, said the president had "a fantastic charisma and will to sacrifice his popularity in order to push through painful economic reforms, which was the main driving force behind the change."
Hakamada said that the period of change was followed by the bloody standoff of the 1993 between the president and the parliament. She added that reformists were not "born ideal politicians."
"Yeltsin was in a conflict with [Soviet President Mikhail] Gorbachev and was moving toward democracy by instinct, as a freedom-loving man who nevertheless belonged to the past. His main strength was that he trusted his instincts. He had an instinct of a politician who sees the future. That is why he not only made mistakes but also gambled and hit it big."
Fledgling Economy
Russia's transition to a market economy was one of President Yeltsin's big wins.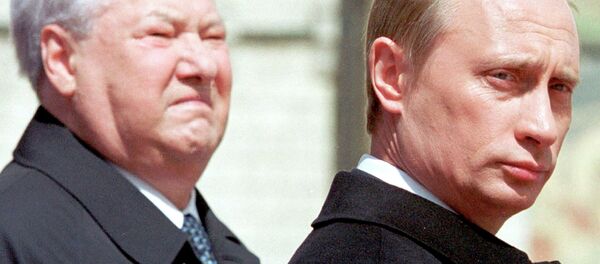 31 December 2014, 13:23 GMT
"In my view, this was the best thing about Yeltsin's presidency – the fact that unlike Gorbachev he took the chance and helped lay the groundwork for a market economy, shielding Russia from chaos, famine and a possible civil war in 1991-1992," Andrei Nechayev said.
Irina Hakamada said Yeltsin "liberated the economy" to form a young government led by Yegor Gaidar. "Of course, he was forced later to replace Gaidar but he was on the right track. The fault was with liberal economists who failed to prevent the 1998 default and made other mistakes, such as permitting voucher auctions. But Yeltsin trusted them as much as he could."
What Halted Reforms
Alexander Rutskoi said that a crack opened between him and the president after the reforms stalled and the privatization of Soviet state assets through auctions turned into plunder.
"It all ended in 1993 with the shooting at the Supreme Soviet [parliament]… In 1998, there was a default on public and foreign debts, the most shameful thing that can happen to an economy. That is the result of Yeltsin's reforms," he said.
Rutskoi said the best decision Yeltsin could have made at that time was to stand down, which he did in 1999. Were he to remain, the country "would have fallen apart," he claimed
Hakamada argued that the president could have gone the whole way.
"If it wasn't for his ill health and his alcohol abuse, I think he would have stayed in office and finalized the reforms. The first stage was very efficient and marked by reforms, while the second one – including the Chechen War and the 1996 elections – was when reforms were curtailed," she said.