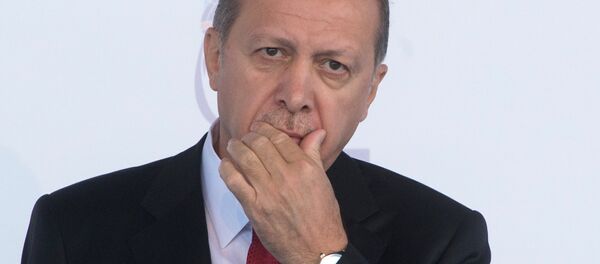 In an interview with Sputnik, former Turkish Ambassador to Iraq and the UK Unal Cevikoz said that the Russian-Turkish thaw in ties is of paramount importance to Ankara, which will now be able to boost its regional clout.
Cevikoz, who currently works as head of the Ankara-based Center for Political Studies, added that the restoration of bilateral relations will also contribute considerably to regional security.
The interview came after Turkish President Recep Tayyip Erdogan sent a letter of apology to Russian leader Vladimir Putin last month over Ankara downing a Russian warplane in 2015; his move that was followed by the normalization of ties between Moscow and Ankara. 
Moscow cancelled the travel ban and a number of restrictions for Turkish businessmen. The two countries also agreed to work together on a number of issues, including Syria.
During the interview, Cevikoz referred to "a wide array of painful issues" related to Turkey's policy on the Eastern Mediterranean and the Middle East.
"In this vein, the diplomatic steps toward normalizing ties with Israel and Russia are of great importance. If Ankara continues to bolster these ties, it will help eliminate a number of factors that damage Turkey's regional position and the situation in the Middle East and the Eastern Mediterranean on the whole," he said.
Cevikoz specifically stressed the significance of Turkey resuscitating ties with Russia, whose international clout he said should be reckoned with.
He touted Russia as "Turkey's current neighbor, not only in the Black Sea but also in the south, in view of its strong position in Syria, where Russia took part in the anti-terrorist operation and support of President Bashar Assad."
"Given all this, it is necessary to emphasize the positive aspect of Turkey's normalization of relations with Russia in terms of ensuring stability in the region. I hope that a similar process will also be launched in Turkey's ties with Egypt and Syria," he said.
He also urged Turkey to change its "biased foreign policy" on the Middle East, which Ankara has pursued in recent years. According to him, Turkey is still seen as a country which is building its policy on an ideological basis.
"In order to eradicate this view, Turkey needs to prove once again its impartiality and ability to maintain relations with all international players so as to resolve conflicts," Cevikoz said.

On June 27, the Russian President's spokesman Dmitry Peskov said that Turkish President Recep Tayyip Erdogan, in a letter addressed to Vladimir Putin, apologized for the downing of a Russian Su-24 attack aircraft by a Turkish jet in November 2015 and extended his condolences to the family of the pilot killed in the incident.
The letter of apology was followed by a phone conversation between Erdogan and Putin, during which they agreed to hold a personal meeting later this year.
By doing so, Ankara fulfilled one of the conditions put forward by Moscow following the incident that paralyzed the long-term partnership between the two countries.