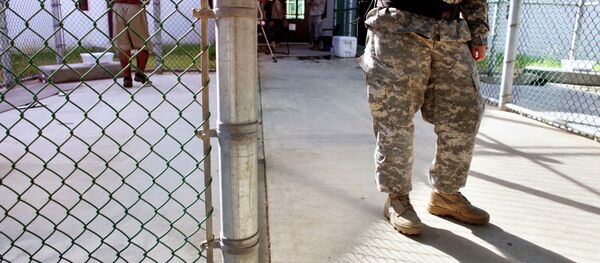 WASHINGTON (Sputnik) – The US detention facility for suspected terrorist prisoners
at Guantanamo Bay
will stay open and be used to maximum capacity if the Republicans win this year's presidential election, presumptive party candidate Donald Trump told a rally in Indiana.
"We are not closing Guantanamo," Trump said in the campaign rally in the town of Westfield in the US state of Indiana on Tuesday night. "We are going to fill it up."
Trump gave no further specifics in his remarks though he had been promising to prosecute the war on the Daesh in his preceding comments.
Trump is due to be official nominated as the Republican presidential candidate at the party's national convention in the US city of Cleveland next week.
US President Barack Obama vowed during his first 2008 presidential campaign to close the Guantanamo facility if elected, but in seven and a half years in office he has still failed to do so. Currently, 76 prisoners remain incarcerated in the detention center.