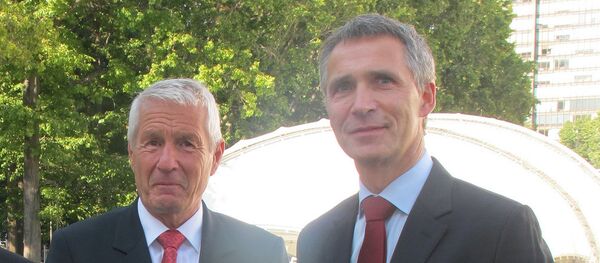 Unlike the United Kingdom, which last week published the
Chilcot Report
, which unleashed strong criticism of Tony Blair's Iraqi venture, Denmark decided to block a secret note regarding the 2003 Iraq War from public access, obviously with the intention of shielding its former Prime Minister and NATO Secretary General Anders Fogh Rasmussen from similar scrutiny.
Whereas a batch of documents, including communications between Blair and former US President George W. Bush, were made available for public download after the publication of the Chilcot Report, a similar 14-year old document written by Rasmussen amid preparations for the US-led invasion of Iraq will be kept under wraps, Jyllands-Posten reported.
According to Denmark's parliamentary ombudsman, Danish law prohibits the publication of such material, which was described as "potentially damaging for other countries." Therefore, the document will be kept classified in accordance with the controversial 2013 Freedom of Information Law.
The debated document relates to a meeting between Rasmussen and then-US Deputy Secretary of Defense Paul Wolfowitz in 2002, which is widely believed to have pushed Denmark into the US-led campaign to oust former Iraqi President Saddam Hussein.
Remarkably, Copenhagen opposes the very idea of shedding light on Denmark's involvement in the bloody war, which threw Iraq into chaos and left millions dead as the nation was turned into a battleground. In 2015, Prime Minister Lars Løkke Rasmussen controversially cancelled a government inquiry into the Iraq War shortly after taking office.
A number of opposition politicians have been calling for the document to be made public, despite the perpetual blockade by the government. The background for Denmark's military involvement in the wars in Kosovo, Iraq and Afghanistan should be examined through an independent investigation, the Red-Green Alliance stated. According to party spokesperson Eva Flyvholm, Denmark should investigate this painful period to be able to learn from its mistakes and look forward, the Danish newspaper Extra Bladet reported.
Denmark has been a loyal NATO associate ever since it joined the alliance as a founding member. Over the past decades, Danish soldiers fought in the former Yugoslavia, Iraq and Libya. Anders Fogh Rasmussen was Danish Prime Minister from 2001 to 2009, whereupon he went on to become NATO Secretary General and remained in office until October 2014.