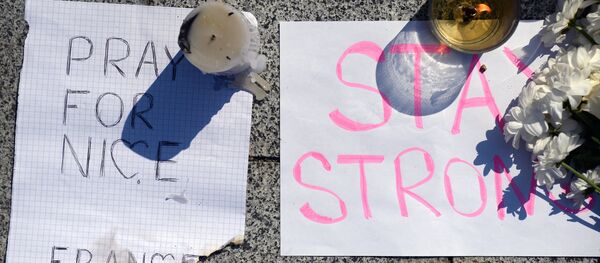 MOSCOW (Sputnik) — Russian Consul General in Marseille, Sergey Molchanov, said on Friday he was going to Nice to meet with the local authorities in light of the recent deadly truck attack in the French city.
"Yes, now I'm going to Nice. I am in contact with the local authorities and the police, and I have agreed to meet with them as soon as I arrive," Molchanov told RIA Novosti.
"We have information that one Russian woman was killed and the other one is in the hospital. Unfortunately, there is no official information yet, as the attack is being investigated," Molchanov added.
Late on Thursday evening, a heavy truck rammed into a crowd celebrating the Bastille Day in Nice, killing 84 and injuring dozens.
The driver was shot dead by police. According to documents found inside the truck, he was a 31-year-old man who was a resident of Nice of Tunisian origin. President Francois Hollande said the assault was of a "terrorist nature."