The commander of Istanbul's 3rd Corps has reportedly issued a televised order for all troops to return to barracks.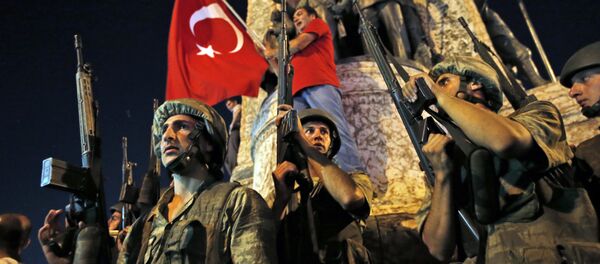 Turkey's National Intelligence Organization also claims that the coup attempt has failed. An adviser for the organization, Nuh Yilmaz, announced that General Staff Hulusi Akar, who was being held by the military, has been released.
State television channel TRT reports that 4 soldiers have been arrested for the coup attempt, including one who was high-ranked. At least 13 people were detained while attempting to capture the presidential palace in Ankara, including high-ranking members.
Roughly 30 soldiers who were part of the coup attempt have surrendered arms in Istanbul's central Taksim Square, according to witnesses. They were taken away in police vans as a fighter jet screeched repeatedly overhead, causing shockwaves that shook surrounding buildings and shattered windows.
Several servicemen have been injured and killed, according to Special Forces Command commander Major General Zekai Aksakalli.
Anadolu news agency reported earlier that 17 police officers were killed during clashes.
"A small number of servicemen supported the coup. We shall take the situation under control shortly. There are deceased and injured among our servicemen," he said as part of an NTV broadcast.
The prime minister described the attempt as an act of rebellion by followers of US-based Muslim cleric Fethullah Gullen. The Alliance for Shared Values (AfSV), a non-profit group linked to the cleric, issued a statement condemning the attempt.
"We condemn any military intervention in [the] domestic politics of Turkey," the statement reads.
The Turkish prime minister has called on citizens to remain in the streets until the coup is completely suppressed. He claimed over 120 individuals have been arrested so far.