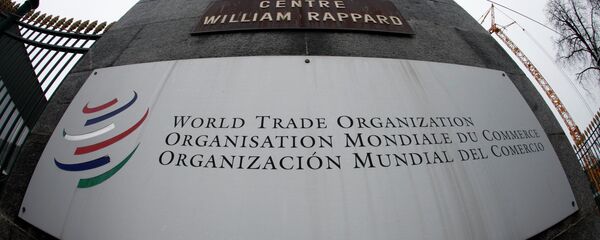 During Thursday's meeting held at the WTO headquarters in Geneva, Chris Wilson  said that China's economic reforms  had failed to live up to the expectations pinned on them when the country was admitted to the
WTO
15 years ago.
"This is particularly evident in the steel and aluminum industries where China's pervasive interventions have led to a significant overcapacity of global supply that is threatening the viability of competitive firms in these industries around the world," Wilson complained.
In an interview with Sputnik, Alexander Salitsky, a Moscow-based economist, said that the US and the West in general, were using this issue as a means of undermining China's economic clout.
"The West  regards China as a competitive, energetic and powerful economy and is careful not to throw its markets too wide open to this eastern competitor which is gaining an upper hand over it," Alexander said.
"Russia, Australia and New Zealand have all recognized China's market status, but now that global trade is losing is traditional role as an economic driver, the West is now looking for  different sources of growth which have almost been exhausted in the West and which China is only developing now," he added.
Alexander said that the US was now trying to use the WTO as an additional means of pressure against China.
"With the election campaign in the US in full swing now, all proponents of protectionism, both in the Republican and Democratic camps, are playing up to the people's deep-seated suspicions about allegedly low-quality Chinese imports, including steel."
China's telecoms giant ZTE may also fall victim to the US presidential race as 14 Republican Congressmen urge the White House to punish ZTE for its cooperation in 2012 with Iran. In March the US Department of Commerce slapped sanctions on ZTE for violating a ban on the export of US technologies to Iran in a move seen by many as an attempt to undermine the Chinese company's role in the US market.
As a result, ZTE was no longer able to buy computer microchips and software. The sanctions also backfired against US suppliers, hence Washington's decision to postpone the move until June 30. Then, in the walkup to the June 30 deadline, the Department of Commerce pushed the sanctions back to August 30.