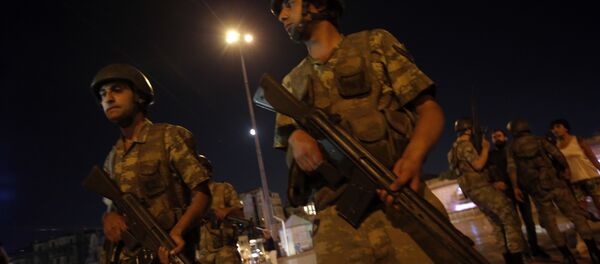 MOSCOW (Sputnik) — The coup attempt was suppressed by early Saturday, with Turkish Prime Minister Binali Yildirim stating that all coup supporters were identified and would be apprehended as the country was returning to normal life. Over 180 people were killed and 1,470 were injured during the events, while nearly 3,000 people have already been detained, according to the prime minister.
"As someone who suffered under multiple military coups during the past five decades, it is especially insulting to be accused of having any link to such an attempt. I categorically deny such accusations," Gulen said in a statement received by the New York Times newspaper.
He also condemned the coup attempt in the strongest terms saying that "government should be won through a process of free and fair elections, not force."
Turkish President Recep Tayyip Erdogan and other officials have blamed Gulen and his supporters for the coup attempt earlier in the day.