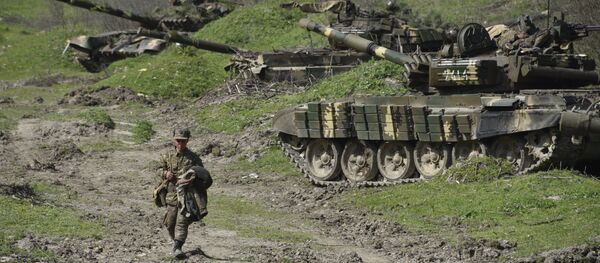 The hostage takers were demanding the release of Jirair Sefilian, an opposition politician and the founder of the New Armenia Public Salvation Front. Sefilian, who took part in the 1988-1994 Nagorno-Karabakh conflict with Azerbaijan, is accused of the illegal acquisition and possession of arms.
According to a statement by the Armenian National Secutiry Service, "people on the territory of the [police] regiment were taken hostage."
"One police officer died and two were injured. Later, two hostages were freed during a special forces operation," the security service said in a statement.
People living nearby have been evacuated. According to unconfirmed reports, shots were heard in the building of the police station.
The hostage takers told Armenian member of parliament Nikol Pashinyan that they also demand the resignation of the country's president Serzh Sargsyan.
The statement added that social media rumors that the situation is linked to a start of an unprising are false.
Informed sources told Sputnik that the killed police officer has been identified as Col. Artur Vanoyan. Three more were injured, they have been identified as Col. Aram Ovannisyan, Lt. Col. Grach Hotegyan, Subaltern Gagik Mkrtchyan.