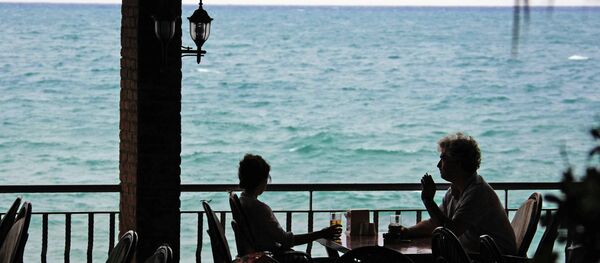 Just like the young woman who, walking down a street in Istanbul and totally oblivious of the  people rallying there, kept asking everyone when the shuttered local jewelry store was going to reopen, apparently dreading the prospect of going back home without cheap Turkish gold.
Or the tipsy young man who, barely finding his way to his hotel three days into the attempted coup in a foreign country and slurring his words, inquired: "Hey, what's going on? Why all these flags? Is Spartak [Moscow football team] coming down?"
One could only pity the poor receptionist who was desperately trying to tell the Russian guest that Taksim square and the name Maxim were not the same thing.
All he could hear in response was: "I'm on a vacation here. Local beer is so-so, but your whiskey is alright." He also promised to drop into the local museums, but flatly refused to say exactly which.
Two girls from Yaroslavl said that coming to Istanbul was a longtime dream. "We finally came here only to find ourselves in the midst of a coup, or, rather, an attempted one. People at the hotel told us to stay indoors."
On Sunday, as everyone realized that the coup had fallen through, the girls decided to go out and visit some local museums and mosques.
"My dad called me and said how he rushed to Moscow to defend the parliamentary headquarters during the 1991 coup. He told me to stay inside," one of them said.
"Big deal! They should have seen our White House in 1993," said Maria, a tourist from Moscow, well versed in Turkish pop music.
"After the 1991 and 1993 coups and the 1998 and 2008 financial meltdowns I fear nothing," Anna, also from Moscow, joined in.
On August 19, 1991, there was an attempt to overthrow then Soviet President Mikhail Gorbachev. Vice-President Gennady Yanayev was proclaimed acting president. Armored columns of tanks and military vehicles were moved into Moscow but many defected to Boris Yeltsin then president of the Russian Soviet Federative Social Republic, the RSFSR.
The coup collapsed in less than three days, and the plotters were  sent to jail. They were pardoned in February 1994.
The constitutional crisis of 1993 was a political standoff between the Russian President Boris Yeltsin and the Russian parliament that was resolved by using military force.
The army, which had initially declared its neutrality, stormed the Supreme Soviet building in the early morning hours of October 4 by Yeltsin's order, and arrested the leaders of the resistance.
The ten-day conflict became the deadliest single event of street fighting in Moscow's history since the revolutions of 1917. According to government estimates, 187 people were killed and 437 wounded, while estimates from non-governmental sources put the death toll at as high as 2,000.