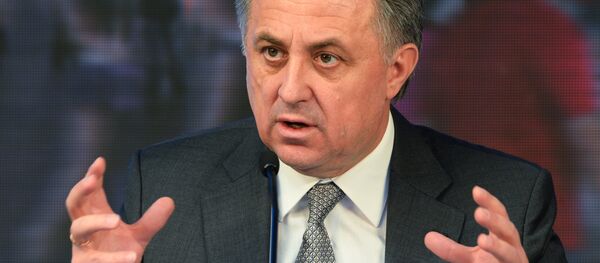 MOSCOW (Sputnik) — On Saturday, R-Sport obtained a copy of the letter sent by Head of the United States Anti-Doping Agency (USADA) Travis Tygart to president of the International Olympic Committee (IOC) Thomas Bach in which he requested to suspend Russian Olympic and Paralympic Committees from participating in 2016 Games in Rio de Janeiro on the basis of McLaren's report that has not been made public as yet.
Earlier on Sunday, the International Swimming Federation (FINA) said that violations of confidentiality regarding McLaren's report undermined the credibility of WADA.
"Things that are happening today, I think they themselves [WADA, USADA] are not happy that they jumped to conclusions so early. These undermines any confidence in the reports, in the objectivity," Mutko told R-Sport.
In May, US media reported, citing former director of the Russia-based anti-doping laboratory Grigory Rodchenkov, that dozens of Russian athletes at the 2014 Winter Olympics in Sochi, including at least 15 medal winners, were using doping throughout the Games as part of a "state-run program." WADA has launched a probe into the claims under the lead of Richard McLaren who has already investigated reports of Russian athletes using doping.
McLaren will present his report on July 18 in Toronto.