"I started to act aiming to stage a coup," Akin Ozturk said during the interrogation.
Ozturk was the commander of the Turkish Air Force from 2013 until 2015.
Earlier, Akin Ozturk, who is the leader of the military coup attempt in Turkey and the former commander of the country's air force, was detained in Turkey.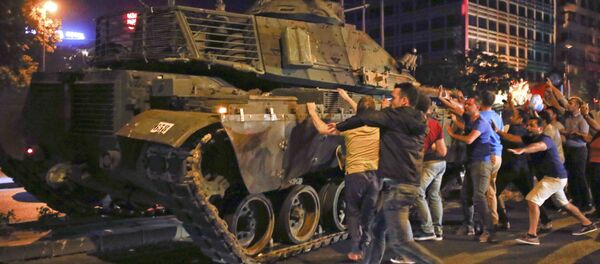 According to Sabah newspaper, Ozturk may be linked to Turkish Islamic scholar Fethullah Gulen staying in self-imposed exile in the United States, who was blamed by Ankara for the attempted coup.
Late on Friday, Turkish authorities said that an attempted coup is taking place in the country. Turkish President Recep Tayyip Erdogan urged Turkish citizens to take to streets, stating that the coup attempt was carried out by a small group within the military.
The coup attempt was suppressed by early Saturday, with Turkish Prime Minister Binali Yildirim stating that all coup supporters have been detained and the country is returning to normal life.
Some 208 people were killed and over a thousand wounded in a coup attempt by a faction in the military on Friday. Turkish authorities have arrested over thousands of people, including a number of high-ranking military officials in connection with the failed coup.