Academics from the London School of Economics (LSE) undertook a review of Corbyn-related stories in national newspapers from September 1 to November 1 last year, concluding that the Labour leader had been "thoroughly delegitimized" as a result of the coverage he received.
The research concluded that in 52 percent of articles about the Labour leader, Corbyn's views were not included in the story, while in a further 22 percent of articles his views were "present but taken out of context."
​Meanwhile, out of the more than 800 articles analyzed, 15 percent presented and challenged Corbyn's views, while just 11 percent presented the Labour leader's views without challenge or alteration.
"Our analysis shows that Corbyn was thoroughly delegitimized as a political actor from the moment he became a prominent candidate and even more so after he was elected as party leader," LSE project director Dr Bart Cammaerts said.
Concerns Over Impact on Democracy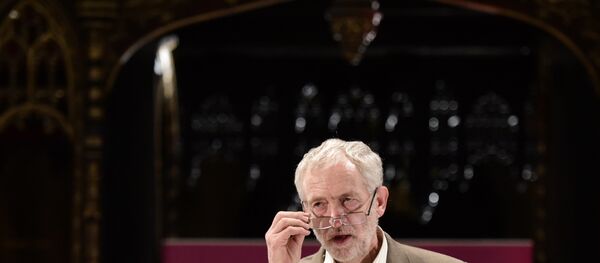 8 October 2015, 14:59 GMT
Researchers also pointed to the impact this distorted coverage of Corbyn's views was having on British democracy.
"These results relating to sources and 'voice' are evidently troublesome from a democratic perspective," Cammaerts added.
"Allowing an important and legitimate political actor, ie the leader of the main opposition party, to develop their own narrative and have a voice in the public space is paramount in a democracy.
"Denying such an important political actor a voice or distorting his views and ideas through the exercise of mediated power is highly problematic."
The LSE team said Corbyn had been "systematically attacked" ever since coming to prominence last summer, and that the British media had "played an attackdog, rather than a watchdog, role."
Crazy Marxist and Terrorist Friends
The report highlighted particular examples where Corbyn was portrayed as being a radical leftist or as someone with links to terrorist groups such as the IRA, Hamas and Hezbollah.
"Corbyn is systematically ridiculed, scorned and the object of personal attacks by most newspapers. Even more problematic were a set of associations which deligitimised Corbyn as a politician, calling him loony, unpatriotic, a terrorist friend and a dangerous individual," the report concluded.
Corbyn gets it in neck for being lukewarm about Remain. Yet for Theresa May being lukewarm about Remain is now a great virtue. I'm puzzled

— Michael Crick (@MichaelLCrick) June 30, 2016
​Broadcaster Sky News removed an article from its website last year that referred to Corbyn as "Jihadi Jez" following widespread public criticism.
Corbyn has himself hit out at the media following his portrayal over the past 12 months, banning journalists from asking questions outside the front of his home.
​"We have a party under attack from much of the media in this country like it has never been under attack before," he said earlier this year.
The study featured publications with views ranging all across the political spectrum and included The Sun, The Daily Express, The Daily Telegraph, The Daily Mail, the Evening Standard, the Independent, the Daily Mirror and the Guardian.