SIMFEROPOL (Sputnik) — The Crimean Economic Development Ministry and Crimean Development Corporation are working out a concept of several agricultural and industrial parks in the republic. Three of those parks, according to Crimean Minister of Economic Development Valentin Demidov, will be created in Saky, Dzhankoy and Black Sea regions. 
Vineyards in Crimea
© Sputnik / Taras Litvinenko
/
"The Italian company Ecologia e Ambiente is ready to invest more than 300 million euros in the Viticulture and Wine-making project in the Republic of Crimea," the ministry said in a statement published on its website.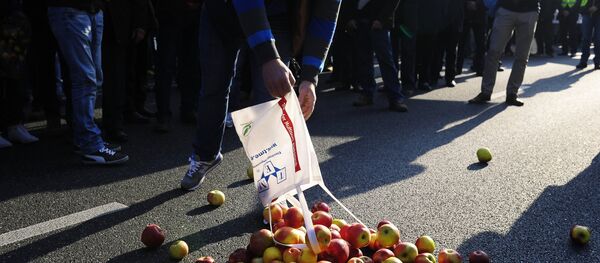 The plots on the peninsula that meet the requirements of the Italian company and are suitable for growing grape have already been selected and the Italian delegation has inspected several sites in the west and south of the peninsula, the ministry noted. The talks on some ​​4,000 hectares of land are underway, the Crimea Development Corporation added.
Crimea boasts up to 30,000 hectares of vineyards, with a further 50,000 hectares ready to be used for viticulture on the Black Sea peninsula.
Crimea reunified with Russia in March 2014 following a political referendum in the region, in which 96 percent of the population voted in favor of joining Russia. Ukraine and the West have to date refused to recognize the vote, imposing economic sanctions against the peninsula that include investment bans and restrictive measures targeting Crimean individuals and entities.