"Two pilots who downed a Russian plane have been detained in connection with the coup attempt. They could have links to Gulen organizatoin, but we do not have clear evidence at this point, it will be established by the court," Erdogan said in an interview with Al Jazeera.
Erdogan also suggested that there may have been foreign countries involved in the coup attempt that left nearly 300 people and hundreds more injured.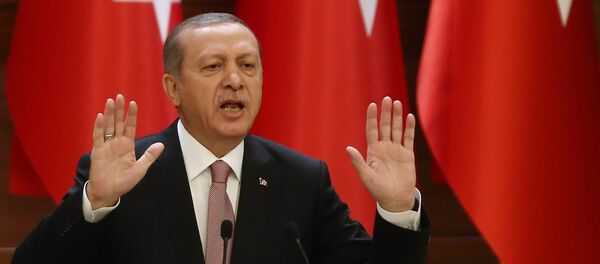 "Other states could be behind this coup attempt. Gulenists have a 'supreme intelligence,' which could have plotted all this. The time will come for all these links to be revealed."
The Gulen movement is led by religious and political figure Fethullah Gulen, currently living in exile in Pennsylvania. The Turkish government has accused him of being behind the failed coup attempt and filed a formal extradition request with the US government. Turkey is awaiting a decision.
While Ankara seeks to detain Gulen, Erdogan suggested that there is "another superior mind" above the Gulen movement leader.
As the Turkish government cracks down on those suspected of being involved in last week's events, Erdogan has suggested that he will approve the death penalty for mutineers if parliament approves. He also stressed that the European Union must respect Turkey's wishes if capital punishment is reinstated.
"I believe that this decision is up to the people. If the people say this must be done, any country that believes in democracy must respect this decision," Erdogan said. "We have been knocking on the EU door for the past 53 years. They have made us wait for 53 years. Many countries who came after us are already in."
On press liberties, Erdogan said he has never been anti-media, but does not believe freedom of expression should be used as a weapon.
On Monday, a Turkish official speaking on condition of anonymity told Bloomberg News that the pilots responsible for shooting down the Russian jet had been arrested.
Speaking to Sputnik on Wednesday, Dursun Cicek of Turkey's Republican People's Party warned against drawing a connection between the the downing of the Su-24 and last week's coup, since the pilots could not have acted without higher orders.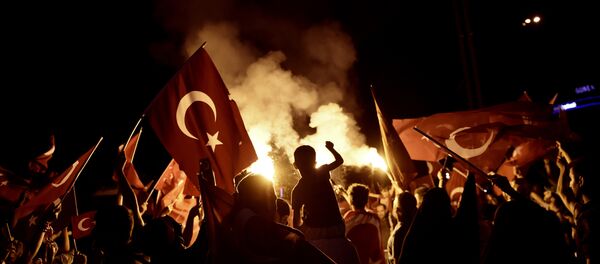 "Therefore the pilot could not shoot without obtaining the relevant permission. Could the pilot decide all by himself? Yes, he could, but in any case, the shot was fired in line with the established legal norms," he said. "I think that is not right to link this incident with the coup attempt."
The Russian Su-24 was shot down while flying through Syrian airspace near the Turkish border on November 24. Following the incident, Russia imposed a number of restrictive measures on Turkey and has repeatedly said that Ankara should apologize for downing the plane and cover the cost of any associated material losses to the country and the pilot's family.
Erdogan send a letter of apology to Russian President Vladimir Putin late last month.