MOSCOW (Sputnik) — Earlier in the day, a car bomb claimed Sheremet's life in the Ukrainian capital of Kiev. The Ukrainian general prosecutor confirmed Sheremet's death, classifying it as murder. 
"A vehicle with Pavel Sheremet was blown up in Kiev. [He was] a professional journalist, who was not afraid of telling the authorities what he thinks about them — to different authorities and at different periods of time. And he was respected for this. Ukraine (not the country, but the system) is turning into mass grave for journalists and journalism," Zakharova wrote on her Facebook page. 
President Petro Poroshenko ordered investigators to ensure the perpetrators of the attack are brought to justice.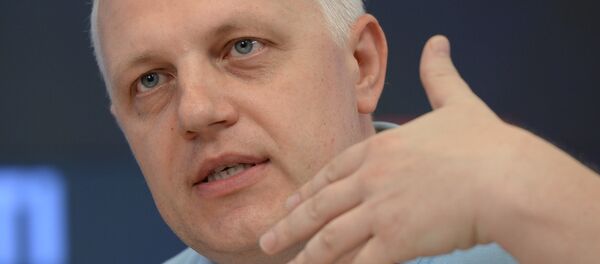 Sheremet is a well-known journalist who worked in Russia, Belarus and Ukraine. He had worked in Kiev for the last five years for the Ukrayinska Pravda news portal and Radio Vesti broadcaster.
In April 2015, Ukrainian opposition journalist Oles Buzina was shot dead in Kiev by two masked gunmen near his home. The incident occurred less than a day after former lawmaker and government critic Oleh Kalashnikov was murdered at his residence in the Ukrainian capital. Another Ukrainian journalist, Donetsk-born Serhiy Sukhobok, was also killed the same month near his house in Kiev.
Reporters Without Borders has repeatedly urged the Ukrainian authorities to investigate the killing of journalists.