MOSCOW (Sputnik) – Kremlin spokesman Dmitry Peskov told reporters:
"I have no such information and do not know which sources the agency is referring to."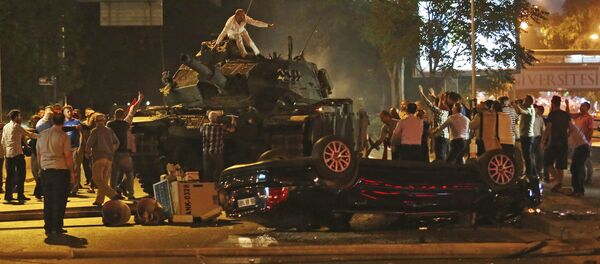 Earlier Iranian Fars news agency reported citing Arab media outlets that Turkish President Recep Tayyip Erdogan was warned by Russian intelligence of an
imminent coup
just hours before tanks appeared in the streets of Istanbul and Ankara last Friday.
On July 15, the Turkish authorities said that a coup attempt was taking place in the country. The coup was suppressed the following day. Some 290 people were killed and around 1,500 injured during the failed coup, according to the country's authorities.
Fars News reported on July 20, Russia had allegedly intercepted Turkish military communications indicating preparations for an insurrection. The purported communication was then passed on to Turkey's national intelligence hours before the failed coup unfolded, the uncorroborated reports said.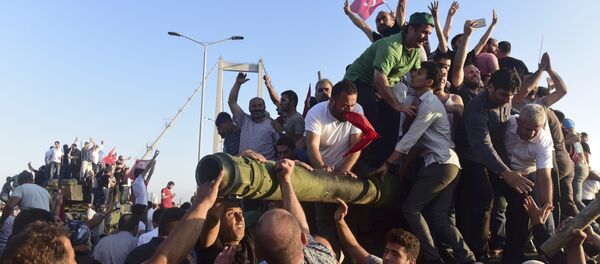 "The diplomatic sources said the shift in Erdogan's foreign policy stated only a week before the coup has been 'a major cause pushing several foreign states to provoke and promise support for the army to stage the coup, and the same shift also saved him,'" Fars News reports.
Speaking about a state of emergency declared by the Turkish leader in the wake of last week's failed attempt to overthrow the government Kremlin spokesman Dmitry Peskov said that it is an internal matter of the country.
"This is Turkey's internal affair," Peskov told reporters.
Turkish President Recep Tayyip Erdogan declared a three-month state of emergency in the early hours of Thursday following a late Friday, early Saturday military coup attempt. The decision took effect after an accompanying decree was published on the official gazette later in the day.