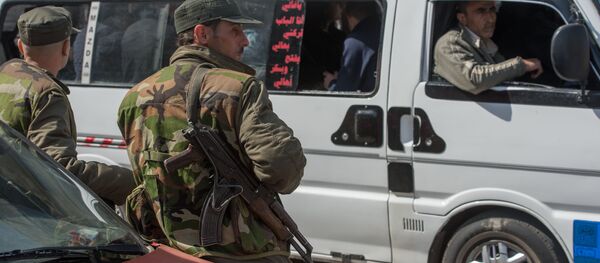 MOSCOW (Sputnik) – At the Aleppo's residential neighborhood of al-Khalidiye terrorists killed a child and injured five other people with a rocket shelling, SANA news agency reported citing a source at the Aleppo Police Command.
Another shelling took place in al-Baath, the province of Quneitra, where the Nusra Front terrorists opened rocket fire hitting a family of five people. A father, a mother and a son were killed while another son and a grandfather sustained severe injuries.
Syria has been mired in civil war since 2011, with government forces loyal to President Bashar Assad fighting numerous opposition factions and extremist groups. On February 27, a US-Russia brokered ceasefire came into force in Syria. Terrorist groups such as Islamic State (IS, also known as Daesh), as well as Jabhat al-Nusra (Nusra Front), both outlawed in Russia and a range of other states, are not part of the deal.