Even though the current occupant of the Oval office previously stressed more than once that he supports fellow Democrat Hillary Clinton in this year's presidential race, his own family seems not to be entirely convinced that this is the right choice.
At least not 58-year-old Malik Obama, also known as Abongo or Roy, who had long considered himself a Democrat, but disappointment in how his brother's administration has performed pushed him to switch parties.
"I like Donald Trump because he speaks from the heart. Make America Great Again is a great slogan. I would like to meet him." Barack's half-brother said in his Sunday interview with New York Post.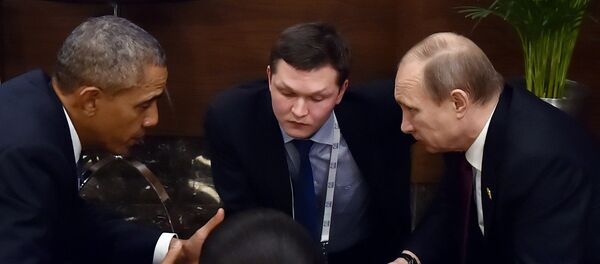 Malik currently lives in Kenya, where he was born and raised. But for many years he had lived in America and worked there as an accountant.  He is registered to vote in Maryland and so he has decided to visit the US once again just to cast his ballot in support of the real estate giant.
According to the US leader's brother, the final straw came when FBI director James Comey announced his recommendation to not prosecute Hillary Clinton over her use of a private email server while she was a Secretary of State.
"She should have known better as the custodian of classified information ", Malik asserted.
Obama also confessed that he was frustrated with the steps Washington had made that resulted in the death of the former Libyan leader Muammar Gaddafi, whom he called one of his best friends and to whom he dedicated his 2012 biography of Barack Obama Sr for "making this world a better place."
"I still feel that getting rid of Khadafy didn't make things any better in Libya," He told reporters. "My brother and the Secretary of State disappointed me in that regard."
Another major disappointment and reason why Obama doesn't want to be a Democrat anymore is same-sex marriage that "doesn't appeal to him". Polygamy, however, appeals to him perfectly, as Malik reportedly married multiple times. He refused to tell New York Post exactly how many wives he has, claiming that it is a "personal information".
​President Obama looking at his half brother Malik Obama right now like pic.twitter.com/b1edjVPE6P
​According to the newspaper, Malik Obama even owns a cap with Trump's slogan "Let's make America great again".
The Republican candidate's reaction was not long in coming.
"Wow, President Obama's brother, Malik, just announced that he is voting for me." He wrote on Twitter. "Was probably treated badly by president-like everybody else!"
Wow, President Obama's brother, Malik, just announced that he is voting for me. Was probably treated badly by president-like everybody else!

— Donald J. Trump (@realDonaldTrump) July 24, 2016
​President Obama and Malik's father left Kenya in 1959 when Malik was a year old and his mother was pregnant with his sister Auma. At the University of Hawaii Obama Sr. met and married the president's mother, Stanley Ann Dunham.
The two brothers were in their mid-20s when they first met, each served as best man at the other's wedding, but their relations appear to have gone sour in recent years.
President Obama, 54, has seven half-siblings from both sides of his family.