MOSCOW (Sputnik) — Russia and Turkey should restore bilateral cooperation to pre-crisis levels before Russian President Vladimir Putin meets his Turkish counterpart Recep Tayyip Erdogan on August 9, Nihat Zeybekci, the Turkish economy minister, said Tuesday.
"According to the latest information, on August 9 the presidents will meet, and during today's meeting we need to define main priority issues to be settled, so that by the time of our presidents' meeting we will be at the relationship level that existed before November 24," he said at a joint press conference with Russian Minister of Economic Development Alexei Ulyukayev.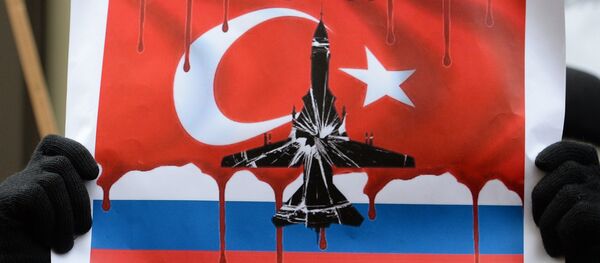 On Tuesday, Zeybekci and Turkish Deputy Prime Minister Nurettin Canikli arrived in Moscow for a visit to boost bilateral cooperation in multiple fields such as energy, food, agriculture, tourism, transportation and trade.
Prior to the visit, Turkish Foreign Minister Mevlut Cavusoglu said that the sides would also discuss the agenda for the meeting between Erdogan and Putin, adding that the two countries were also focused on the revival of joint military and intelligence mechanisms to increase cooperation in Syria.
Turkey and Russia ended seven months of tension in late June when Erdogan wrote a letter to Putin in which he apologized for the downing of a Russian Su-24 attack aircraft by a Turkish jet in November 2015 over Syria and extended his condolences to the family of the pilot killed in the incident.
By apologizing for the incident, Ankara fulfilled Moscow's condition for restoring the long-term partnership between the two countries. Erdogan also said in the letter that a legal case had been opened against the Turkish citizen suspected of involvement in the death of the downed plane's pilot, which was another precondition for the normalization of relations. Putin subsequently lifted the ban on charter flights to Turkey and instructed the government to negotiate a revival of trade with Ankara.