MOSCOW (Sputnik) —Residents of Seongju County, where the system is expected to be deployed, protest against the move over potential negative health effects caused by the electromagnetic waves emanating from the THAAD's radar. On July 18, South Korea's experts carried out a health risk testing on the THAAD system located at the US military base in Guam.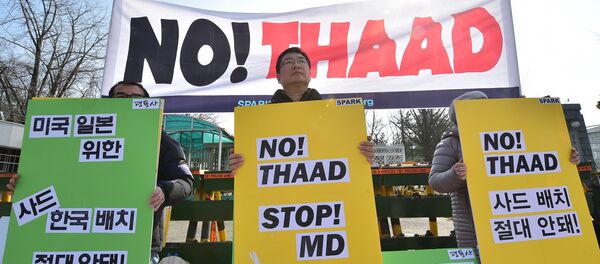 "In the upcoming evaluation on the THAAD battery's environmental impact, we will conduct the same test again to ensure that the anti-missile system does not pose any major health risks to Seongju residents in a reasonable and subjective manner," a spokesman for the Defense Ministry told reporters, as quoted by the Yonhap news agency.
On July 13, the country's Prime Minister Hwang Kyo-ahn together with Defense Minister Han Min-koo visited the county in a bid to persuade local residents to accept the deployment of the THAAD system. The attempt failed, with locals throwing eggs and water bottles at the officials.