MOSCOW (Sputnik) – Turkey changed its air incident response rules entrusting pilots with decision-making in November 2015, prior to the downing of a Russian Su-24 jet near the Syrian border, Turkish Deputy Prime Minister Mehmet Simsek said Tuesday.
"The response rules were changed because Syrian planes were downing Turkey's planes. According to the modified rules, a decision on whether or not to shoot down a plane was delegated to pilots," Simsek told reporters in Moscow.
Relations between Russia and Turkey deteriorated when a Russian Su-24 attack aircraft was shot down on November 24, 2015, by a Turkish fighter near the Turkish border in Syria. Following the incident, Moscow imposed a number of restrictive measures on Turkey.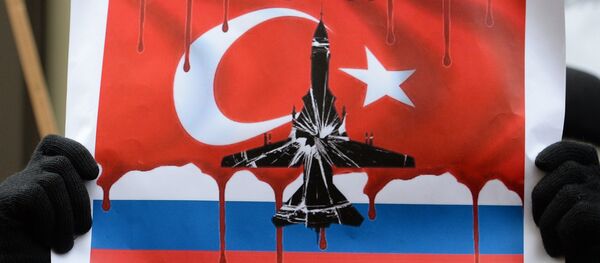 In late June, Kremlin spokesman Dmitry Peskov said that Turkish President Recep Tayyip Erdogan, in a letter addressed to Russian leader Vladimir Putin,
apologized for the downing of the Russian aircraft
and extended his condolences to the family of the pilot killed in the incident.
By apologizing for the incident, Ankara fulfilled Moscow's condition for restoring the long-term partnership between the two countries. It was also noted in the letter that a legal case has been opened against a Turkish citizen suspected of involvement in the death of the downed plane's pilot, which was another precondition for the normalization of relations.