Conservative MP Andrew Tyrie, who is also chair of the All-Party Parliamentary Group on Extraordinary Rendition, has urged the UK's Crown Prosecution Service (CPS) to provide MPs and peers with evidence gathered during investigations into the rendition of terror suspects.
"Responsibility for the facilitation of rendition should not have been allowed to fall through the cracks," Tyrie wrote in a letter to Dominic Grieve, chair of the ISC and former attorney general.
​"That it has done so and for a decade is, frankly, a scandal. It is now crucial to find out who authorized these operations and how," he added.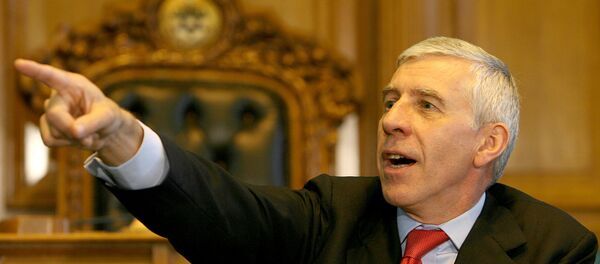 15 December 2015, 13:27 GMT
Despite initially suggesting an investigation should be carried out by a judge-led inquiry, former Prime Minster David Cameron tasked the parliamentary Intelligence and Security Committee (ISC) to look into MI6's role in the rendition of terror suspects, with a particular focus on the 2004 abduction of Libyan dissidents Abdel Hakim Belhaj and Sami al-Saadi, who were at the time opposed to Muammar Gaddafi's government.
While the ISC cleared British intelligence services of any illegality, it later emerged that some government agencies had withheld some information from the committee conducting the investigation.
Andrew Tyrie — another principled and knowledgeable Tory (see work on rendition) — speaking against Cameron's foolish bombing plans.

— Tanya Jones (@decombustion) December 2, 2015
​A letter written by Sir Mark Allen, the then head of MI6's counterterrorist operations, to former Gaddafi intelligence chief, Moussa Koussa, revealed details of MI6's role in the abductions of Belhaj and al-Saadi, undertaken in cooperation with the CIA.
The two men, accused of involvement in terrorist groups, were arrested and later transferred back to Libya, where they were later tortured and held in prison for many years.
Chief MI6 officer at that time, Mark Allen, wrote a letter openly boasting about MI6 involvement in the rendition of Abdel Hakim Belhaj.

— Daniel Pitt (@infamyreborn92) June 15, 2016
​The UK's CPS then announced in June that no UK officials would face prosecution over the investigation, which led to calls for greater transparency.
Evidence Vital in Knowing 'What Went Wrong'
Tyrie said the evidence gathered as part of the CPS investigation "will be vital in understanding what went wrong and by whom."
He said the ISC should "require permanent secretaries of all relevant departments and agencies, including the security services, personally to certify that they have taken all reasonable steps to supply [the ISC] with all relevant information held by their respective departments," acknowledging that the UK must also "examine the issue of detainee transfers in Iraq and Afghanistan", he added.
"There is a wide gap between previous government statements, and what we now know. This illustrates the need for an inquiry," he said.