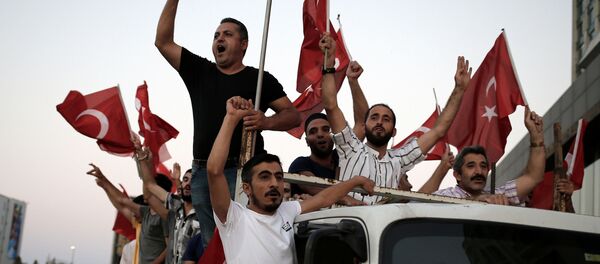 Earlier this month, elements of the Turkish military attempted to carry out a coup against Turkish President Recep Tayyip Erdogan and his ruling Justice and Development Party. Since then, speculation has emerged that the coup may have been orchestrated by followers of Fethullah Gulen, a Turkish billionaire preacher who is in self-imposed exile in the United States.
Speaking at an expert panel organized by the Rossiya Segodnya news agency on Thursday, German political scientist Alexander Rahr suggested that if some foreign power is proven to have been involved in the attempt to overthrow the Turkish government, Ankara will be forced to radically reconsider its geopolitical alignment.
"As far as Turkey is concerned, if it turns out (and it is no longer possible to hide anything) that the attempted putch against Erdogan was somehow sponsored by Saudi Arabia, or by other states – if it turns out that once again, as in 1980, US intelligence is behind the coup, I think that the question of Turkey's exit from NATO can be put on the agenda."

Furthermore, Rahr noted, if this happens, Ankara may also attempt to shift its geopolitical stance in favor of integration into the Shanghai Cooperation Organization, and enhanced cooperation with the Eurasian Economic Union. "Turkey has always attempted to negotiate with Russia in the Black Sea region, instead of conducting some kind of pro-American, pro-NATO policy. I cannot exclude the possibility that Ankara will recognize Abkhazia, or the possibility that Turkey will seek accession into the SCO and cooperation with the EEU," the analyst noted.
The German analyst also believes that Ankara understands perfectly well that Turkey is "not so well-loved in Europe," and that the barriers to entry into the European Union are growing higher and higher. "Turkey, like Russia, is stuck in its relations with Europe – stuck in an eternal debate about values, with the West considering itself a model of high morality, rules and liberal values, and expecting that all its partners are guided by them."