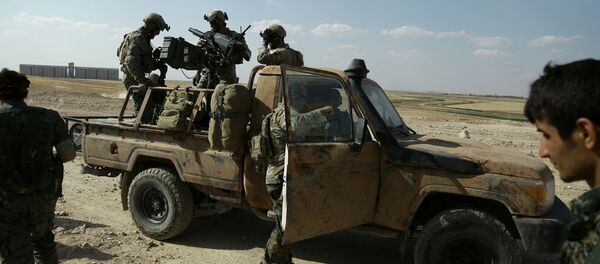 MOSCOW (Sputnik) – Washington has offered Moscow to impose a week-long regime of silence in Syria in order to filter out the so-called "moderate" opposition, the Russian Izvestia newspaper reports.
"During talks between Russian Foreign Minister Sergei Lavrov and US Secretary of State John Kerry held in Moscow on July 14-15 and at the bilateral ministerial meeting held on the sidelines of the ASEAN [Association of Southeast Asian Nations] summit on July 26, the American delegation offered to introduce a 'regime of silence' for seven days in order to separate the moderate opposition from terrorist groups," the newspaper said on Thursday citing a source familiar with the US-Russia talks.
According to the source, the United States wants Russia and coalition forces to stop airstrikes against terrorists in Syria for one week.
Syria has been mired in civil war since 2011, with government forces loyal to President Bashar Assad fighting a number of opposition factions and extremist groups. On February 27, a US-Russia brokered ceasefire came into force in Syria. Terrorist groups such as Islamic State (IS, also known as Daesh), as well as Jabhat al-Nusra (Nusra Front), both outlawed in Russia and a range of other states, are not part of the deal.
Russia has continuously asked its partners in the fight against terrorism in Syria to notify it of locations of moderate opposition forces allied to them, so that they would not be targeted by accident.