Those who are going to vote for Hillary Clinton as the 45th president of the United States should know that the Democratic hopeful has a long record of being supportive of kicking off US military interventions and boosting them, Micah Zenko, a senior fellow with the Center for Preventive Action at the Council on Foreign Relations, notes.
"By any reasonable measure, Clinton qualifies as a hawk, if a nuanced one. Though she has opposed uses of force that she believed were a bad idea, she has consistently endorsed starting new wars and expanding others," Zenko writes in his article for Foreign Policy magazine.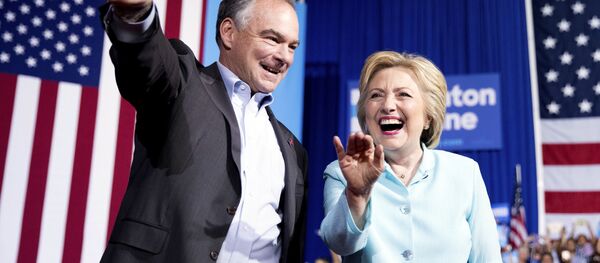 The US scholar takes a walk down the memory lane and listed episodes which indicated Clinton's "hawkish" approach.
Just to name a few, back in 2002 Clinton, then senator for New York, voted for authorization for the use of military force in Iraq; in 2009, while being a secretary of state, Clinton supported the deployment of three brigades of additional US troops to Iraq; in 2011 Clinton propagated a regime change in Libya, while in 2012 she reportedly proposed a covert program to provide arms and training to Syrian rebel groups to oust President Bashar al-Assad.
There is a little if any doubt that Hillary Clinton will follow the same path if she wins the 2016 US presidential election.
And it is especially important with the Syrian conflict high on the White House's agenda.
"As Hillary Clinton begins her final charge for the White House, her advisers are already recommending air strikes and other new military measures against the Assad regime in Syria," independent investigative journalist Gareth Porter notes in his latest article for Consortiumnews.com.
Porter underscores that there are clear signs that the Clinton camp is preparing for a new phase of war in Syria.
"Last month, the think tank run by Michelle Flournoy, the former Defense Department official considered most likely to be Clinton's choice to be Secretary of Defense, explicitly called for 'limited military strikes' against the Assad regime," Porter narrates.
Flournoy is also calling for creating a "no bombing" zone in Syria so that the Syrian "rebels" could be safe while making efforts to oust Bashar al-Assad.
"The proposal for a 'no bombing zone' has clearly replaced the 'no fly zone,' which Clinton has repeatedly supported in the past as the slogan to cover a much broader US military role in Syria," Porter explains.
He points out that earlier this month Leon Panetta, former Defense Secretary and CIA Director, who has been advising candidate Clinton, said in an interview that the next US president "would have to increase the number of Special Forces and carry out air strikes to help 'moderate' groups against President Bashar al-Assad."
Furthermore, in an interview with The Telegraph on Friday Jeremy Bash, former chief of staff for the Pentagon and the Central Intelligence Agency and Hillary Clinton's foreign policy advisor, revealed that Clinton will "reset" the White House's Syria policy against the Assad government, and will work to get the Syrian President "out of there."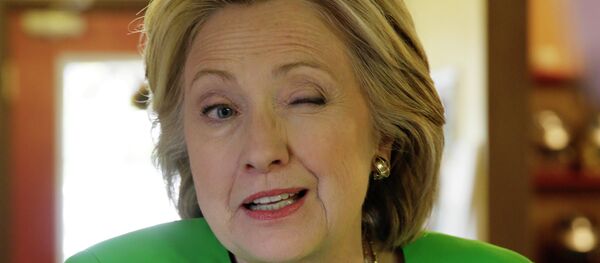 It is worth mentioning that the Obama administration has recently come under heavy criticism from US neoconservatives for focusing too much on defeating Daesh and neglecting the goal of toppling Bashar al-Assad. The
much discussed dissent memo
signed by 51 State Department diplomats calls upon the President to redirect US airstrikes in Syria toward defeating the Syrian leader.
Clinton's openly "hawkish" stance is being reinvigorated by a US "war party" behind her.
"As Hillary Clinton puts together what she hopes will be a winning coalition in November, many progressives remain wary — but she has the war hawks firmly behind her," independent Rania Khalek wrote in her article for The Intercept on July 25.
One of the most eminent neoconservative figures supporting Clinton is Robert Kagan, the co-founder of the neocon think tank Project for the New American Century.
Khalek called attention to the fact that Kagan "played a leading role in pushing for America's unilateral invasion of Iraq and insisted for years afterward that it had turned out great."
In this context it is clear what steps Hillary Clinton is most likely to take if she assumes the presidency: as Julian Assange wrote in early February this year: "A vote today for Hillary Clinton is a vote for endless war."