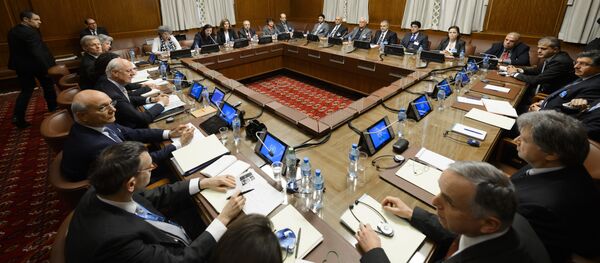 MOSCOW (Sputnik) — The large scale humanitarian operation in Syria's Aleppo held by Russia and Syria creates the conditions for starting the next round of proximity talks in Geneva, a leader of the Syrian Moscow-Cairo opposition platform Qadri Jamil told Sputnik.
Russian Defense Minister Sergei Shoigu said on Thursday that Moscow and Damascus had launched a joint large-scale humanitarian relief operation in Aleppo, establishing three corridors for civilians and one for militants wishing to lay down arms.
"This humanitarian operation is a factor speeding the resumption of Geneva talks," Jamil said, adding that "it facilitates the humanitarian situation and changes partially the balance of powers in Syria by creating the conditions to resume the talks in Geneva," Jamil said.
He stressed that Russian suggestion to open humanitarian corridors in the area of military operations is possible only with Russian participation, and the UN would not be able to do it on its own.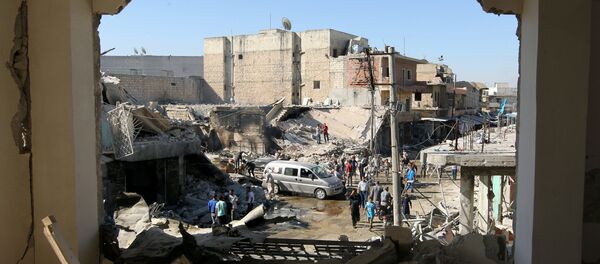 On Friday, UN Special Envoy for Syria
Staffan de Mistura
called on Russian to leave humanitarian corridors in Syria to the UN surveillance.
"It would be great if the UN participates in that, but it would not be able to do it without Russia that plays an important role there," Jamil said.
Syria has been mired in civil war since March 2011, with government forces loyal to Syrian President Bashar Assad fighting numerous opposition factions and extremist groups. The Syrian government delegation, as well as three opposition groups — the Riyadh-formed HNC, the Moscow-Cairo and the Hmeimim groups — have been taking part in the UN-mediated Geneva talks on peaceful settlement of the conflict.
The latest round of the talks took place in Geneva on April 13-27. The HNC walked out of the negotiations, citing the continuous fighting in Syria and the lack of progress on humanitarian issues.