MOSCOW (Sputnik) – Seven humanitarian corridors have been opened in the Syrian city of Aleppo for civilians and militants willing to surrender, the Russian General Staff said Monday.
"Seven humanitarian corridors are active for the rescue and aid of civilians taken hostage by terrorists, as well as for militants who choose to lay down their weapons. Stations for hot meals, food supplies, water and first aid have been established in close proximity to these humanitarian corridors," Chief of the Main Operational Directorate of the General Staff Lt. Gen. Sergei Rudskoy told reporters.
He said a separate corridor for militants wishing to give up was formed in northern Aleppo.
Total of 329 Settlements Joined Syria's Ceasefire
Another 109 Syrian settlements have joined the ceasefire reaching the total number of 329, Rudskoy said.
"Over the last week, 109 settlements have signed the reconciliation agreement. Today, there are 329 of these settlements. In addition, leaders of the armed forces of the moderate opposition signed and sent to the Russian Center for Reconciliation 61 applications to join the cessation of hostilities," Rudskoy said.
He added that several dozens of Aleppo militants have surrendered and over 300 civilians left Aleppo.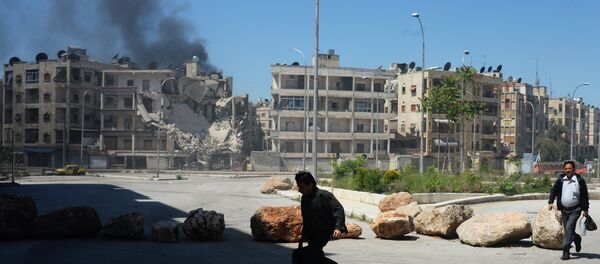 A large-scale joint Russian-Syrian humanitarian operation is underway in the east of Aleppo. Russian Defense Minister Sergei Shoigu announced the establishment, together with the Syrian authorities, of three humanitarian corridors "to help civilians who find themselves held hostage by terrorists and insurgents who are wishing to lay down their arms." As expected, hot meals and first aid points will be deployed in the areas of humanitarian corridors. At the same time, Syrian President Bashar Assad on Thursday issued an amnesty decree for the surrendering militants.
"Today, 324 civilians, including 76 children left the eastern districts of Aleppo to the humanitarian points, 82 militants laid down their arms and are now passing the amnesty procedure. Currently, the Syrian command established contact and negotiating the cessation of resistance with a number of units from the so-called moderate opposition," the official said.
Syria has been mired in civil war since 2011, with government forces loyal to President Bashar Assad fighting numerous opposition factions and extremist groups. On February 27, a US-Russia-brokered ceasefire came into force in Syria.
Terrorist groups such as Daesh, as well as Jabhat Fatah al Sham (previously known as al-Nusra Front), both outlawed in Russia and a range of other states, are not part of the deal.