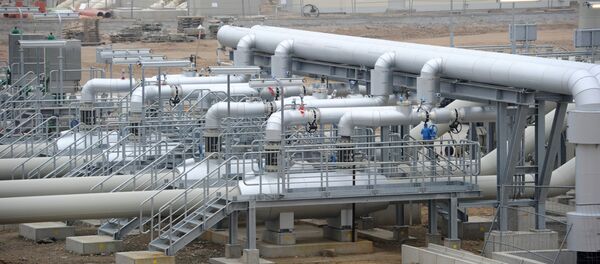 Orders have already been placed for pipes and pipe-laying ships but the work to set up a joint venture between Russia's Gazprom and five investors from Austria, France, the Netherlands and France has been hindered by Poland's foot-dragging on an ongoing antimonopoly probe. Similar agreements with other countries the pipeline will run through have not been signed either.
The newspaper drew a line between Nord Stream 2 and the geostrategic and economic interests of many countries. US President Barack Obama has advised German Chancellor Angela Merkel to stay away from the project in an apparent bid to encourage Europeans to buy liquefied gas from the United States.
Meanwhile, Slovakian Vice President Maros Sefcovic wants the gas pipeline to run across Ukraine hoping this would earn his country millions of euros in transit duties.
Economic interests are also at the heart of Poland's campaign against Nord Stream 2.
As for Ukraine, FAZ wrote that it should not be excluded from the transit arrangement, while still blaming the impasse on "decades of "mismanagement and corruption in Kiev."
"[Russian President] Vladimir Putin could defuse all these tensions by sticking to a "reliable policy aimed at implementing international legal norms," the newspaper wrote in conclusion.
Nord Stream 2 is meant to cut transit reliance via Ukraine and increase Gazprom's share in the European energy market.
Expected to go on-line in 2019, it will deliver Russian gas to Germany, bypassing Ukraine, Poland, and the Baltics.
The three transit countries as well as the European Commission have opposed the project, but work continues.
Ukraine has actively opposed Nord Stream 2 because the pipeline would strip them of transit fees.