The Commission has decided to refer Greece to the European Court of Justice because it failed to comply with a 2008 Commission decision, ordering the recovery of unlawful aid to Hellenic Shipyards. This follows a 2012 ruling by the Court, condemning Greece for its failure to implement the decision.
"More than seven years after its adoption, Greece still has not implemented the Commission decision of June 2008, ordering the recovery of over US$278 million of unlawful state aid to Hellenic Shipyards. The Commission has now requested the Court of Justice to impose on Greece a lump sum penalty of about US$6.68 million," the Commission said.
"The Commission has also requested that the Court impose a daily penalty of US$38,929 from the day of its judgment until the date Greece brings the infringement to an end. The implementation of the 2008 decision will remove the unfair advantage received by Hellenic Shipyards, in breach of EU state aid rules, and aims to restore the level playing field in the market."
Sour Relations
The long-running standoff over the Hellenic Shipyards affair will add to the souring of relations between the EU and Greece, which are already under strain over the harsh austerity measures demanded by Brussels as part of the third Greek bailout.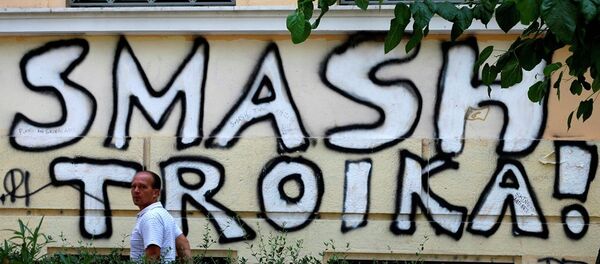 The harsh austerity measures have become deeply unpopular in Greece, where there are frequent demonstrations against changes to the tax and pension system. Both the Commission and the ECB have been demanding swingeing fiscal changes in order to bring Greece into a surplus of 3.5 percent of GDP.
The Greek creditors — the European Commission, the European Central Bank (ECB) and the International Monetary Fund (IMF) — known as the Troika had been at odds for six years over the sustainability of Greece's three bailout programs.
​The IMF did not join in the third bailout because it said any deal would have to involve debt relief, as its said the proposed bailout terms were unsustainable. The Commission and the ECB disagreed and continued to demand major tax and public spending reforms of Greece in return for bailout money.
"Cut the Debt. IMF Go Home" Athens 2015
The IMF disagreed, saying in a report May 23: "Greece continues to face a daunting fiscal consolidation challenge. After seven years of recession and a structural adjustment of 16 percent of GDP, Greece has only managed to achieve a small primary surplus in 2015, and this due to sizeable one-off factors. This is still far away from its ambitious medium-term primary surplus target of 3½ percent of GDP."