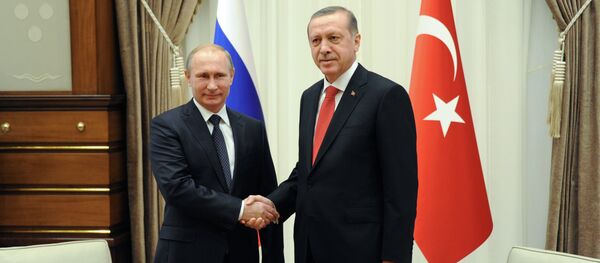 MOSCOW (Sputnik)
–
Russian President Vladimir Putin and his Turkish counterpart Recep Tayyip Erdogan will outline a roadmap to bring bilateral relations to a new level since the Russian jet downing froze ties, Turkish Ambassador in Russia Umit Yardim said Friday.
Putin and Erdogan are scheduled to meet next Tuesday, August 9, in St. Petersburg.
"The leaders will discuss a full range of available issues. First, the negotiations will be tete-a-tete, and then between the delegations. And, of course, the presidents will outline a roadmap to bring our relations to a qualitatively new level in the course of August 9 negotiations," Yardim told RIA Novosti in an interview.
He said policymakers, business, economic, social and cultural officials will then put the roadmap into practice.
"I can quite confidently say that this is a historic meeting. We have been preparing for almost a month for it," the diplomat stressed.