Recent opinion polling by the Russian Public Opinion Research Center has concluded that among the wave of terror plaguing Europe, 72% of Russians are worried that they or their loved ones could become victims to terrorism in Russia. At the same time, 66% said they were confident that the authorities would be able to protect the public from such attacks. 
Commenting on the results of the polling in an article for the independent news and analysis portal PolitRussia, Albert Naryshkin noted that when it comes to fighting terror, unlike Europe, "Russia has a complex, multi-layered defense in depth…it consists of elements most of us find to be commonplace, familiar and normal attributes of life. These things set us apart from countries in the West, but we do not always even perceive the role they play in ensuring our security."
According to the journalist, there are five major elements separating the Russian security services' fight against terror from that of their European counterparts.
First Line of Defense: The Registration System
Registratsiya, or the 'Registration' system, is the first line of defense, the journalist explained. The system records the residence and internal migration of Russian citizens inside Russia, and is featured in the internal passports Russians regularly carry with them.
Naryshkin recalled that "compared with the ease with which people can move around Europe without revealing themselves to authorities, our system gives law enforcement a huge advantage" in carrying out their work to keep people safe.
"What kinds of actions in our country require showing a passport? It's asked at the bank, in the train and even in coach buses traveling between cities. Want to hook up to the internet? Show your passport to the internet provider…Want to go to the doctor? You need your policy document, where again all your data is available."
And while ordinary Russians "easily get access to any services by presenting their ID, the illegal alien without documents will immediately run into all sorts of problems. He will be cut off from a large sector of life. And while it's possible to forge documents, it's worth remembering that many creators of forged papers are themselves informants for law enforcement."

"Factually," Naryshkin explained, "life in Russia is set up in such a way that it is impossible to come out of nowhere, to do something and to go back 'into the shadows' without leaving a trace. Even in large cities, newcomers quickly attract attention, while in areas like villages, everyone there basically knows literally everyone else by name."
Accordingly, Russian law enforcement is "very sensitively tuned" to newcomers, has knowledge of the approximate profile of persons of interests, and moves very quickly in finding out whatever it is they need to know. 
"Towns and cities have not only police, but also branches of the FSB" (the Russian internal security service). "They have their own assets, and are quite sensitive to noticing when suspicious strangers appear. Therefore, for all the apparent drowsiness and routineness of Russian life, one can quickly get into the authorities' field of view' if they have something wrong with their documents or their appearance in a new location is suspect."
Of course this alone isn't a complete guarantee of safety, Naryshkin noted. "Guarantees of complete safety don't exist, especially since we no longer live in 'closed cities' or work in secret closed factories as was the case in Soviet times. Of course it's possible to circumvent the system, just like it is any other. Nevertheless, the registration system works very well in catching suspicious and dangerous individuals, much more so than the media reports on. What may seem to the law-abiding man in the street like a bureaucratic annoyance is something that quickly turns into a pre-trial detention and investigation for would-be criminals."
Islam: Using Tradition Against Radicalism
Russia's second "secret weapon" against terrorism is Islam itself, the journalist noted. "And no, there is no humor or sarcasm in such a statement. It's just that Russia, unlike Europe, has its own, native, traditional Islam – Muslim communities with their own settled ways of life, relationships and hierarchies. If a Russian believes in Allah, it is not necessary for him to attend a semi-underground mosque, where preachers from out-of-town come in to recruit terrorists."
Naryshkin recalled that the Russian president has made it a priority to congratulate not only Orthodox Christians, but believers of all of Russia's traditional religions – Islam, Judaism, and Buddhism, when they celebrate their religious holidays. "Over the last several years," he added, "Russia has offered support for traditional Islam – has finally opened universities, where imams are taught by local religious experts, not as before, where they were taught by Salafist preachers from Saudi Arabia or Turkey. Unfortunately, we have already had a taste of what students were taught there, and we don't want a repeat of that situation."
© Sputnik / Alexei Druzhinin
 / Go to the mediabank
September 23, 2015. President Vladimir Putin, left, during the visit to the Moscow Cathedral Mosque after the ceremonial opening. Right to left: Ravil Gainutdin, Chairman of the Russian Mufti Council, and President of Turkey Recep Tayyip Erdogan.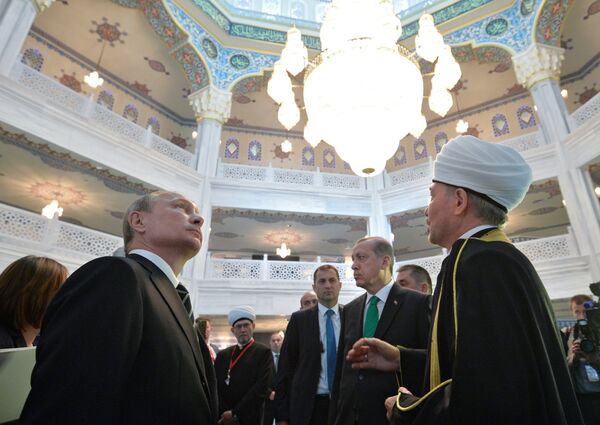 September 23, 2015. President Vladimir Putin, left, during the visit to the Moscow Cathedral Mosque after the ceremonial opening. Right to left: Ravil Gainutdin, Chairman of the Russian Mufti Council, and President of Turkey Recep Tayyip Erdogan.
© Sputnik / Alexei Druzhinin
/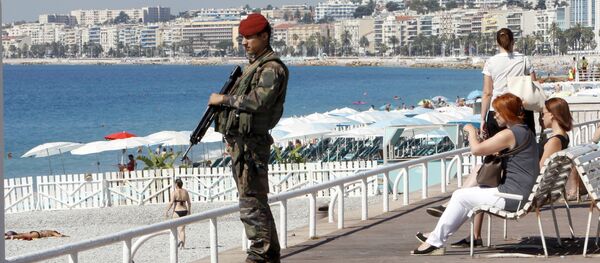 "No less important is the fact that Muslim communities have very strong family ties, where the older generation watches over the younger. They will undoubtedly notice if a young person suddenly stops going to a mosque, stops attending prayers, and instead disappears and prays and listens to who knows who and where. Very few want to see their sons among the terrorists, especially as suicide bombers."
"Therefore," the journalist explained, "the social mechanisms of bringing young people back on the right track work very fast, since respect for elders is of great importance in the religion. In the extreme case, they find out and inform on any [suspicious] new preacher-recruiters to local authorities."
"Does this guarantee 100% protection? Again, of course not. But it makes an important contribution. Many lively chatterboxes do not even feel it as they find themselves in the gentle embrace of the FSB, while the local Muslim community will not even give the appearance that anything out of the ordinary took place. And no one will be able to determine how the information was attained, or to whom and how it was transmitted. Our law enforcement agencies have worked for decades in the Volga and Caucasus regions, and are fully capable of working with the local Muslim population."
Shoot First, Ask Questions Later
In addition to the elements outlined above, Naryshkin recalled that Russia also has a special 'domestic medicine' "against particularly violent radicals who do not want to listen to reason, or their elders, and proudly go off into the forests to 'fight for their faith'. For them, Russia has a series of rules of engagement which European countries would find 'too undemocratic'."
These, the journalist noted, include Russian laws according to which the bodies of terrorists are not given over to their relatives. "The ritual and place of their burial remains a secret. For Muslims this is a very painful form of uncertainty: what if they are not buried according to Islamic customs? And what of the poor parents? Many though not all would-be terrorists are stopped by these realities."
Moreover, new laws do not oblige authorities to spare terrorists' housing, if police and security services face the risk of being killed while trying to take them alive. "If resistance becomes problematic, authorities can just roll up a tank and fire it at the terrorist's home, and find out afterward if anyone is alive inside. Or there is a budget option: to fire at the hideout with a grenade launcher."
© Sputnik / Igor Zarembo
 / Go to the mediabank
FSB officers carry out a plan of action to secure captured terrorists in a building in anti-terrorism exercises in the sea port of Kaliningrad.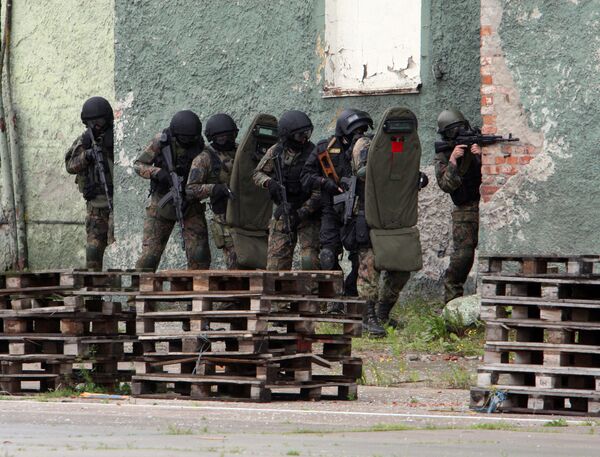 FSB officers carry out a plan of action to secure captured terrorists in a building in anti-terrorism exercises in the sea port of Kaliningrad.
© Sputnik / Igor Zarembo
/
Subsequently, Naryshkin explained, because terrorists know that their homes can be turned into ruins, many no longer hide out in their parents' homes. "Other residents too aren't so eager to let militants into their home, knowing they can remain without a home in the aftermath."
"From the point of view of Europe, such laws and practices are terribly undemocratic. But in Russia, they allow authorities to stop potential terrorists even before they begin their 'careers'; and those who do manage to start are taken down with minimal losses."
Migrant Workers: Tight Visa-Like Control
In recent years, a great deal of work has been done by the Federal Migration Service (now integrated into the Ministry of Internal Affairs) to tighten control over migrant workers, known in Russia as 'gasterbeiters'. Naryshkin emphasized that "while the system is far from perfect, it cannot even be compared with the complete absence of registration and control of migrants in Europe."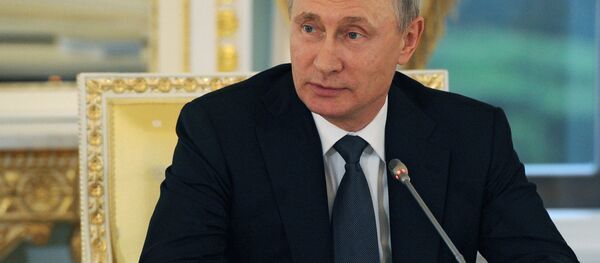 The Russian system features a unified database of all guest workers, complete with passport details and records on patterns of entry and exit into and out of the country. "Secondly, an important law has been adopted according which guests can only live in the region in which they are registered."
"But the main thing," according to the journalist, "is the introduction of a patent system for employing migrants. Tax accounting is a serious thing: it demands that all their documents are in order. Thus, in addition to providing the treasury with tax income, migrant workers have been entered into the registration system, so authorities know where they are, where they came from and where they are going."
Effectively, the journalist noted, "Russian authorities are trying to ensure that they know just as much about guests as they do their own citizens. This distinguishes Russia from Europe, whose authorities don't know who is on their territory, where they are coming and going to, etc."
The Internet: Fight Against Terrorist Propaganda
Russia is also waging war against terrorism on the internet, Naryshkin noted. Local telecommunications watchdog Roskomnadzor is able to ask for court orders to block websites, with courts given the authority to classify material 'extremist' and ban its distribution. If disagreements occur over the classification, it can be appealed.
At the same time, Russia has its own social networks, including Vkotnakte and Odnoklassniki, and these too cooperate with law enforcement.
"In effect," the journalist explained, "cooperation with service providers, social networks, email services, web portals and other large online services allow Russian law enforcement agencies to actively combat the spread of terrorism in the Russian segment of the internet."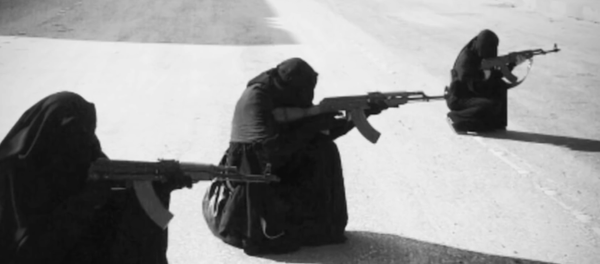 "After the start of a wave of terrorist attacks in Europe [last month], questions emerged about how to stop lone suicide attackers. The response of security specialists was clear: If they are not stopped at the prophylactic stage, they can't be stopped." Accordingly, Naryshkin noted, the easiest way to fight with recruiters, preachers, and disseminators of this infectious propaganda on the internet is to stop people from reading it."
"Therefore, Russia, unlike Europe, not only has leverage over internet services, but does not hesitate to use it to suppress agitators. Of course, those who seek the information will always find it, but the fewer resources [the terrorists] have, the less users will find them and the lower the chances will be that they will find new recruits."
Ultimately, Naryshkin emphasized that unfortunately, there are never any guarantees of complete safety against terrorism. Nevertheless, given the series of measures Russian security services have at their disposal, Russians can look confidently toward the professionalism of the security services to protect against the threat. European countries, meanwhile, may just have something to take away from the Russian experience.