MOSCOW (Sputnik) — Saturday marks the second anniversary of Rossiya Segodnya International Information Agency special photo correspondent Andrei Stenin's death while on assignment in conflict-torn eastern Ukraine.

PATH TO WAR CORRESPONDENT
Stenin was born on December 22, 1980, in the town of Pechora in Russia's Komi Republic.
In 2003, he began writing for Rossiyskaya Gazeta newspaper's society section, later moving to the Gazeta.Ru news portal for several years.
In 2008, he took up photography and contributed to RIA Novosti, ITAR-TASS, Reuters, Associated Press and France Press news agencies, as well as to Kommersant newspaper as a freelance photographer.
Stenin began working as a RIA Novosti photojournalist in 2009 and then as a special photographer for the Integrated Photography Directorate at Rossiya Segodnya in 2014.
The photojournalist specialized in documenting the human side of accidents, riots, military actions and armed conflicts. Syria, the Gaza Strip, Libya and Turkey are only a few places he worked during his service.
He received the Iskra mass media award in 2010 and the Silver Camera Award in 2010 and 2013.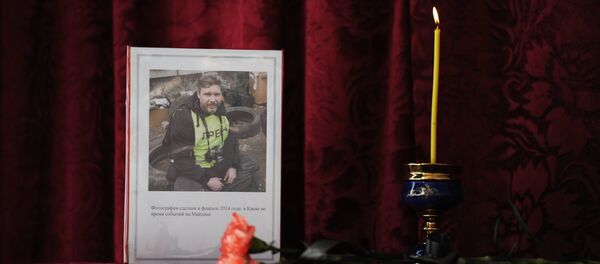 22 December 2015, 16:30 GMT
THE LAST ASSIGNMENT
On August 5, 2014, Stenin, on assignment in eastern Ukraine, fell out of communication with his editorial office. Local sources said he might have been detained by Ukrainian security forces, but this was not confirmed by Kiev.
Ukraine's Foreign Ministry announced his disappearance on August 11. The next day, Kiev said it was aware of Stenin's whereabouts.
Adviser to the Ukrainian Ministry of the Interior Anton Herashchenko said in an interview with Latvia's Radio Baltkom that the Russian photojournalist had been arrested by Ukrainian special services on suspicion of "assisting terrorists." Later, Herashchenko said his words were "misinterpreted" and that he only assumed Stenin had been detained, but had no accurate information. Baltkom then shared these assertions with the media.
Rallies in support of the photojournalist were staged across the world. Various officials and groups expressed concern about his fate including OSCE Representative on Freedom of the Media Dunja Mijatovic, the International Federation of Journalists (IFJ), and Reporters Without Borders (Reporters Sans Frontiers, RSF).
On September 3, 2014, it was announced that Stenin had been killed in the eastern Ukrainian Donetsk Region on August 6. The car he was driving, while on editorial assignment, was shot and burned on the highway.
On September 5, 2014, Stenin was buried at the Troyekurovskoye Cemetery in Moscow, where the journalist was interred with full military honors – three salvos to honor the fallen.
5 September 2014, 05:49 GMT
POSTHUMOUS RECOGNITION
On the day of the funeral, Russian President Vladimir Putin signed a document awarding Stenin the Order of Courage posthumously for the heroism he showed in performing his professional duties.
On December 22, 2014, a memorial plaque was unveiled in his honor on the Rossiya Segodnya building at Zubovsky Boulevard in Moscow.
In December 2014, Rossiya Segodnya organized the Andrei Stenin International Press Photo Contest under the patronage of the Russian National Commission for UNESCO. The contest is a major international platform for young photographers in Russia and around the world.
In February 2015, one of Stenin's works took third place in the Impact 2014 — Human Conflict category at the Picture of the Year International competition in the United States.
On August 6, 2015, Rossiya Segodnya released an album of his best works from various hot spots, named The Conflict Zone, and compiled by Stenin's friends and colleagues.