"One can only hope that the crazies in Syria are rolled back by rational secular forces before January, aided perhaps by welcome, coordinated foreign air power, when the Queen of Chaos comes to the throne," Gary Leupp, Professor of History at Tufts University, wrote for CounterPunch.
Otherwise, Hillary Clinton "will be looking for excuses to bomb Damascus," he warned.
In fact, the former Secretary of State has already indicated that she wants to step up Washington's military efforts in Syria. Less than two weeks ago, Jeremy Bash, Clinton's foreign policy adviser, said that revising the US strategy for Syria was a priority for Hillary.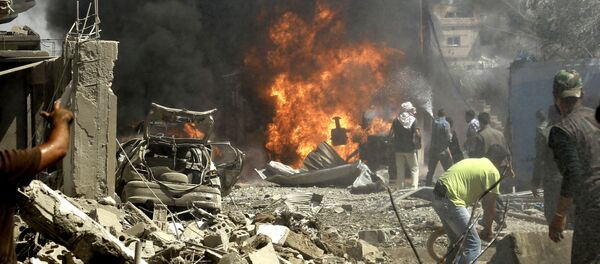 America's new approach to dealing with the Syrian crisis, according to Bash, will involve a more vigorous campaign against Daesh as well as efforts to force Assad out. Yet this strategy will not necessarily lead to a peaceful and prosperous Syria. In fact, it will most likely fuel the sectarian violence that has already claimed more than 280,000 lives and left millions displaced.
Russia has repeatedly warned that a regime change in Syria will only help religious fundamentalist groups that are trying to overthrow Assad and establish Sharia Law in the war-torn country. Leupp echoed these sentiments.
"The weakening of central state power encouraged by the US since [2011] has allowed these groups to seize territory and advance their positions, while the reclamation of state authority when it's happened has set back the bad guys. Or at least the worst guys," he noted.
Hardliners in the US have been deaf to these concerns. Earlier this year, a group of State Department employees signed a letter calling for a limited use of force to encourage Assad to resign. "Meanwhile the recent statement from the Center for a New Security headed by key Clinton aide and likely future Secretary of Defense Michele Flournoy similarly promotes regime change," Leupp added.
The professor further said that Hillary Clinton appears to have not drawn any conclusions from the 2011 NATO-led intervention in Libya that plunged the country into chaos.