MOSCOW (Sputnik) — Admiral Nakhimov is currently being refitted at the Sevmash shipbuilding company in the city of Severodvinsk, with the works planned to finish in 2018. Earlier, the Russian Navy said the battlecruiser would join the Northern Fleet by 2020.
"The United Instrument Manufacturing Corporation is creating a new management information system for the Project 1144 Orlan heavy nuclear-powered guided missile cruiser Admiral Nakhimov as part of the works on refitting and upgrading the military ship," Khozin told RIA Novosti.
The new system is set to increase the comfort of the crew's work, boost the speed of decision-making and information transfers as well as improve the management efficiency of the ship, he added, noting that the vessel is currently fitted with a reference system that possesses a limited number of parameters.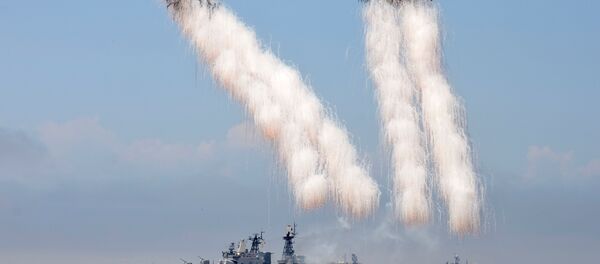 "It is assumed that we will significantly increase its capabilities. A substantial administrative network is being created, which includes internal communications, databases, video broadcasting and an intelligent decision-making support system," Khozin said.
The Admiral Nakhimov, formerly named the Kalinin, is the third of the four Kirov-class heavy guided missile cruisers that was in service with the Soviet and subsequently the Russian Navy from 1980 to 1998. The vessel is capable of providing air defense and anti-submarine defense. It has a displacement of 25,800 tonnes and a crew of 759, including 120 officers.
Russia is currently implementing a large-scale rearmament program, announced in 2010, to modernize 70 percent of its military hardware by 2020.